Jika Evelyn Ryan boleh, Anda juga boleh !
The Prize Winner of Defiance, Ohio (2005)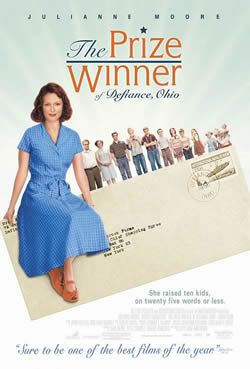 Buat semua para penggemar pertandingan pengguna (consumers contest), filem ini adalah untuk anda semua.

Filem arahan Jane Anderson ini adalah berdasarkan kisah benar mengenai Evelyn Ryan iaitu diadaptasi daripada buku 'The Prize Winner of Defiance, Ohio: How My Mother Raised 10 Kids on 25 Words or Less', hasil karya anak beliau sendiri, Terry 'Tuff' Ryan.

Set dalam tahun 1950-an, Evelyn (lakonan mantap Julianne Moore), ibu kepada 10 org anak, telah berhenti kerja di sebuah publishing house setelah berkahwin dgn suaminya (lakonan Woody Harrelson), seorang koroner yg kini menjadi tukang mesin akibat dari sebuah kemalangan. Si ibu sangat gemar memasuki pertandingan dan juga kerap kali memenangi berbagai jenis hadiah, seperti mesin basuh, kereta, percutian, serta barang2 elektrik. Beliau juga berjaya membayar 'mortgage' rumah dgn hasil kreativiti beliau, and not to mention berbagai2 barang keperluan utk keluarga dan anak2.

Aku begitu kagum dgn watak Evelyn yg begitu penyabar dan penyayang, walaupun kadangkala dilayan seperti sampah oleh suaminya yg panas baran dan kaki botol. (Dalam hal ini, kita tak boleh nak salahkan si suami juga kerana ini adalah tahun 1950-an, dan adalah agak malang jika sang suami gagal menjalankan tanggungjawab sebagai bapa/ main breadwinner keluarga). Apa pun, Woody berjaya membawakan watak beliau dgn baik, kerana aku mmg betul2 bencikan wataknya yg pathetic tetapi kekdg agak lucu.

Si ibu dalam filem ini, sedikit sebanyak, menceritakan bagaimana utk menjadi pemenang. Beliau juga menyelitkan beberapa tips utk menarik hati para juri, seperti memasukkan nama penganjur dalam slogan, gunakan nama anak2 utk menghantar lebih drp satu entri dan juga sentiasa keep a notebook and a pencil handy, sbb kita tak tahu bila idea akan muncul dalam kepala.

Babak best : Honestly, filem ni mmg penuh dgn babak2 heartwarming yg bisa membuatkan kita menitiskan air mata. Contohnya, ketika si bapa dgn tidak sengaja membuat si ibu terjatuh ketika membawa susu utk anak2nya (yg mana terpaksa berhutang kerana si bapa seringkali menghabiskan wang di kedai arak), dan Evelyn, oh, beliau sangat2 tenang (walaupun kesemua susu tumpah, mengalir bercampur dgn darah beliau), dan tidak sekali pun beliau merasa marah atau benci kepada suaminya, walaupun, pada pendapat aku, kalau isteri yg tidak sabar, mmg sudah lama meninggalkannya. Juga babak dimana Evelyn memenangi shopping spree, dan anak2nya datang memberikan sokongan, sementara si suami tidak lupa meletakkan minyak pelincir pada troli agar senang dikemudi. Juga saat beliau berkongsi makanan2 eksotik dgn anak2nya.

Evelyn, pada aku, ibarat seorang dewa di mata anak2nya. Beliau begitu tabah, cekal dan sentiasa bersemangat, tidak kira masa, dan akan berbuat apa saja demi kejayaan anak2 beliau. Ya Allah, berilah aku kekuatan dan kesabaran, supaya aku juga, menjadi dewa di mata anakku.

Aku bagi filem ni *****/*****. Go catch it, buy it and enjoy yourself. I know I did.


Labels: Films, Printed Materials