When Hormones Go Haywire...
Tanda2 Zack demam lagi…

But first, a questionnaire (dari message board www.cartoondollemporium.com)

You are a My Chemical Romance Poser if…

1. You can only sing Helena by heart ~ for now la.
2. You think Three Cheers for Sweet Revenge is their debut album. ~ Nope
3. You think "Gerald" is hot ~ Gerard la.
4. You turned emo overnight ~ *malu nak ngaku*
5. You hate Jamia (She rocks!) ~ who?
6. You cry because GAW has a gf ~ GAW? Gee sound better. I don't have to cry, coz it's moi! Hehe…
7. You don't understand the line above ~ wth la
8. If you don't understand it, you don't believe it ~ oso wth la
9. You say MCR is Goth metal ~ dulu la
10. You don't know about the Breakfast Monkey ~ Tau. bf aku memang talented :P
11. You don't know who matt p is ~ Tau. Drummer lama before Bob joined in.
12. You wonder if Gerard and Mikey are relatives ~ They're brothers!
13. You didn't know there's a song titled cemetery drive in 3CFSR ~ Tau.
14. You don't like Ray's fro ~ I love platinum blonds.
15. You would wanna rape Gerard, Mikey or Frankie ONLY. ~ I have my standards :P

Hoho, an MCR poser , I am not!




Untuk semua yang kata aku terlambat tuh (menentang arus la, server slow la, poser la ~ I'm looking at you, Wan & Ija, two of my sisters!), yeah, I admit it. In a way la, sebab aku jatuh chenta dgn lagu dan video The Ghost of You prior to The Black Parade. But I liked the group after the image revamp. Dan selepas aku tau betapa cutenya Gee, Mikey dan Frankie. (Bob and Ray aku suka gak, tapi not as much as I love the three). Dan juga, sebab ni adalah blog aku, jadi sukati aku le nak letak apa yang aku suka atm.

Ok, back to the biz,

17 Signs You're Head Over Heels With MCR ($)

1. You comb through your old collection of Galaxie/ Klik/ Utopia, with the hope of finding ANYTHING on MCR. (Aku terjumpa Galaxie 16-30 September 2005, yang mana MCR menjadi coverdudes dan berasa sangat2 jeles ngan Geraldine Jeremiah yang berjaya menemuramah diorang).

2. … dan berasa agak kesal kerana telah terberi majalah Klik yang ada MCR di muka depan kepada anak jiran aku dulu (Shite, masa tu aku langsung tak minat MCR) ~ nak mintak balik rasa cam buruk siku pulak.

3. Seperti biasa, membuat koleksi wallpaper dan screensaver dengan setiap gambar2 cun yang dijumpai di internet (so far, baru ada 40++)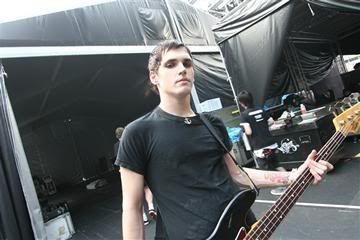 4. … dan membuat list bangang camnih, as usual.

5. Anda cuba membayangkan Frank dengan dreadlocks dan Ray dengan afronya yang dibuat rebonding, and tried to erase both images sebab nampak lawak gila.

6. Anda terfikir balik kenapa anda sukakan Gee sooo much, dan terfikir kat sorang mamat lembut yang aku reject masa nak masuk Form 5 dulu (*). (You're cursed Zack!!!!) ~ (yang ni, cuma orang yang rapat ngan aku jek tau). Last time aku jumpa dia (secara tak sengaja) was in 2002.

7. You downloaded all their albums and they became your playlist di ofis dan di mp3 player. Seriously, album The Black Parade adalah yang paling best pada aku (only second to Three Cheers for Sweet Revenge~ itu pun sebab dia ada lagu2 Helena, Cemetary Drive and The Ghost of You)…

8. dan tahu kenapa anda begitu gila dengan album baru nih. Pada aku, dalam album ni, diorang sounds lebih matured dan mainstream (f_ck, sejak bila kau start dengar benda2 mainstream ni Zack??). I dunno, tapi transformation drp irama 'gila2 remaja' dalam album terdahulu kepada lagu2 yang lebih mesra telinga, membuatkan aku suka sangat2 lagu2 dalam album ni. For instance, cuba dengar lagu2 lama Kara's Flowers sebelum diorang muncul dengan imej, nama dan album baru ! (That's Maroon 5 and their Grammy winning album ~ Songs About Jane~ [thanks Ijan!]) Memang jauh berbeza!

9. Anda rasa Gee ialah satu nickname yang cool dan cute bagi seorang lelaki. (Tetiba teringat kat Fauziah Latif lak…)

10. Benda2 bangang yg diorang buat pun nampak cute pada anda. Contohnya, Mikey mempunyai seekor kucing bernama Bunny Marie Way (yang mempunyai myspace-nya sendiri) dan beliau sangat sukakan unicorn. (kalau aku tak minat MCR, mungkin aku akan fikir like, wtf?)

11. You contemplated of undergoing a LASIK surgery, just because Mikey had one. (Not true, though. Aku lagi selesa ngan my glasses, thank you very much. They cover my insecurities.)




12. Nama Alicia Simmons membuat anda rasa nyampah gila, walaupun anda langsung tak kenal saper dia.

13. Anda rasa cam nak gelak sensorang bila terbaca quote2 diorang yang sangat witty dan comel. For instance, kata Mikey, "This band is metal in that we have a lot of metal in our instruments, and there's quite a lot of metal on my belt buckle as well."

14. Anda rasa bangga semacam jek sebab anda lebih tinggi drp Frank by 2" !

15. Cubicle revamp! (Out with Wentworth, in with Gee, Mikey, Frank, Ray and Bob!) La ni tengah dok fikir camne nak bagi my cubes bertemakan hitam dan merah. Shite, habih la tempat aku ni kena shun ngan others! (Cam ofis abah lu la Zack)

16. Anda semacam tak sabar2 nak gi rumah makcik hubby anda sebab anak dia yang baru nak masuk Form 5 tu minat kat MCR (dan selain drp adik bongsu aku kat kampung, dialah satu2nya manusia in flesh and blood yang aku kenal scara lahiriah yang suka MCR) sebab so far, aku masih lum jumpa lagi fans MCR selain di internet saja. :(

17. Anda bengang sebab album The Black Parade langsung tak tersenarai untuk Grammy tahun ni, kira, kalau diorang takde perform, anda langsung taknak tengok rancangan tuh. (ala, memang aku tak pernah tengok pun, hehe….)

($) Akan diupdate kalau aku terfikir benda2 lain lagi.

(*) Hoho, ni satu cubaan ntahapahapantah sorang kawan lama aku untuk mengkapelkan sorang lelaki yang lembut ngan sorang tomboy (borderline pengkid) dengan harapan akan sorta menterbalikkan personality memasing. Ko ingat ni filem Freaky Friday ke? Bad idea, man, bad idea. (Itu dulu la, citer lama.)


PS: Aku rasa macam nak tamatkan segala obsesi gila ni once I got preggie. (Waiting is so fuckin' depressing!) Boleh, Insya Allah, masa aku preggie ngan Ikmal dulu aku refrain gila drp segala benda2 camni, walaupun kekadang tu terlepas gak (sori, Ikmal). So, to the person that I loved, bear with me for a while. (You can do it, Zack!)
Pics from Blade You Stain : Your No. 1 source for MCR. Thanks a lot!
Labels: My Chemical Romance