Updates Lagi!
Tahniah!

Rasanya masih belum terlambat untuk aku ucapkan tahniah buat ex-classmate aku masa di UiTM dulu– Roselinda Abdul Jamil a.k.a Alin a.k.a Cik Kiah (nama manja zaman UiTM dulu sebab dia terer bab2 organize events esp. rombongan). Alin is the new Council Member for Majlis Perbandaran Klang (MPK), and also, (kalau tak silap aku), Ketua Puteri UMNO Bahagian Klang. Tahniah beb. Harap dapat jalankan tugas dengan penuh amanah dan dedikasi!

Huhu, takde chan la…

Petang Khamis lepas…

Bos aku: Zack, esok jangan lupa pakai uniform tau.
Aku: Hah? Ada apa kak?
Bos: Kan ada EGM esok. You kena jadi official la.
Aku: (almost dengar tak dengar) Adoi, saya nak tengok James Bond la esok kak.. <-- (tang ni memang luruih bendul betul!) Bos: Ala, kejap je. Tak sampai lunch hour pun.
Aku: Hmm… ok la. :(

Meeting habih dalam kul 11. Pastuh aku kena siapkan report lak, huhu...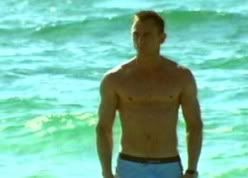 That's it.
Habih la satu2nya peluang aku nak gi nonton Daniel Craig muncul dari laut ala Honey Ryder dalam Dr. No. :( Jumaat petang, show pukul 12. Days before that aku serba salah gak, sama ada nak nonton Casino Royale atau Cicakman (filem Cinta is outta question sebab show kul 11.15 pagi dan aku tak pernah ponteng kerja semata2 untuk tengok wayang; wah wah, pekerja berdedikasi weh!) Takpe, nasib baik Ah Long ada…

It's okay to badmouth your boss (?)

"Talking bad about your boss in the office behind his back does not amount to misconduct which warrants dismissal", said the Industrial Court.
The Star : Saturday 9 Dec 2006

Ini berhubung satu case wrongful dismissal sorang kakitangan MNI yang didapati bersalah menyebarkan email kepada rakan2 sepejabatnya yang dikatakan somewhat mengutuk orang2 atasannya. (Perkara biasa, imho, especially kalau ko bekerja ngan kompeni yang sebahagian besarnya bumiputras). Minah ni dapat balik gantirugi lebih kurang RM67k.

Come to think of it, aku, for one, kalau boleh, cuba mengelak drp terlibat ngan perkara2 bangang yang membabitkan office politics. Yeah, it's true, it's a dog eat dog world out there. Tapi, segala tugasan yang telah diberi, pada aku adalah satu amanah yang patut dipikul dan dijalankan dengan penuh keikhlasan. Dan kita patut bersyukur kerana mempunyai satu pekerjaan yang tetap dan dapat menyara anak2 dan keluarga dengan wang yang halal (Insya Allah). Pasal gosip2 ni, biasa la. People who gossips to you, WILL gossip about you. Itu satu kenyataan. Aku? Aku lebih senang dok diam2 buat kerja aku sendiri sambil ditemani oleh Gerard Way, dan occasionally, Sheikh Saad Syed Al-Ghamidi.

Dan berbalik kepada kakak kita yang dah kaya by RM67k tu, agak2 bagaimana dia nak start bekerja nanti (tak kira la sama ada dengan kompeni lama atau baru), dengan rekod yang sedemikian? Hmmm…

LRT sucks!!

Tau apa yang lebih shitty drp LRT yang terlampau sesak sehingga kau takleh nak bergerak langsung? Well, try standing behind an Indon Mat Rock yang rambutnya panjang dan sangat2 keras (macam dawai pencuci pinggan yo) sehingga masuk dalam mata aku (bayangkan- aku pakai spek and I can't imagine when was the last time he washed his hair * gross nak mampus *. Yeah, ini betul2 terjadi pada aku last week. Mcm nak pitam aku tahan nafas dari stesen Cempaka ke hang Tuah. :(

Oohhh…



Cute. Just cute. Dan sangat2 "lembut"! (hell, dia mesti lebih terer pasal mekap berbanding ngan aku!) Memang berbeza dengan on-stage personanya yang sangat2 gila! I dunno whether to laugh or to cry.
Or whether I have to re-evaluate my current taste in men :P

PS: Make-up dedulu MCR agak OTT, imho. Kinda reminds me of Swiper the Fox of Dora the Explorer($). Hehe…




($) Anak aku suka sangat kartun Dora the Explorer, walaupun aku personally agak freaked out dengan parents dia yang senang2 membiarkan budak perempuan berusia 7 tahun merayau2 ke sana ke mari dengan hanya bertemankan seekor monyet yang suka memakai sepasang but…* shudder *

Labels: My Chemical Romance, Personal