Update lagi!
Aku ada in-house course dua hari ni. Tapi takpe, update tetap update!

Benda paling bangang pernah berlaku sepanjang lebih kurang 6 tahun aku menggunakan LRT.

Ada la dua orang minah ni, getik2 la gitu, duduk dalam tren sambil berborak and giggling and such. Masuk sorang perempuan pregnant berbangsa Cina. Ko tau apa diorang dua orang ni buat?

Diorang pi squeeze the whole row of seat untuk bagi perempuan tu duduk. (Aku nampak macam sangat tak selesa sekali perempuan tu, dengan half of her butt seated out of the seat). Dan the whole row of the fuckin' zombies (pardon my French), which consists of able-bodied men AND women, dok buat tatau jek, tanpa ada consideration untuk bangun dan memberi perempuan mengandung tu tempat duduk. I mean, what the hell? Minah duaorang tu pun sama, sanggup duduk berhimpit daripada bangun berdiri dan memberi seat kepada yang memerlukan. Dah tu, cuma bawak handbag kecik jek, bukannya bawak briefcase besar atau beg galas overnighter macam aku nih. Wtf? Aku ~ cuma mampu jeling tajam dan geleng kepala je.

Susah sangat ke berdiri dalam kurang 15 minit? Patah ke kaki kau yang pendek tu?


Pagi semalam, dalam perjalanan ke stesen LRT…

Me: Yang, this morning tadi I had this recurring dream la.
My hubby (MH) : Pasal apa
Me: Ntahnya. Seems that my bf is coming over with his parents all the way from Australia
MH : Siapa? Pondan tu ke?
Me: Pondan? Huhu, tak pc langsung la you nih. Jgn la panggil dia camtuh. Nama dia Gee la. Dia cuma lembut sikit jek, bukan pondan. And dia dari New Jersey, bukan Australia.
MH : Hmmm. Macam2 la you nih

Hehe…

Pagi tadi pulak, aku mimpi Sultan Pahang nak jumpa aku.
Apa barang la aku asyik dok mimpi pelik2 nih…

Just because…

MCR, Leeds 2005.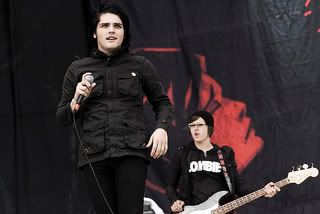 Bob & Gee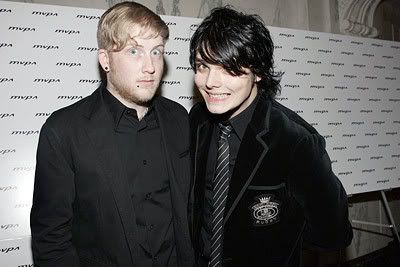 Apa lagi yek.

Oh ya, semalam kitaorang kena ambik measurement untuk buat uniform baru. Nampak gayanya cadangan aku untuk membuat uniform serba hitam dengan line2 berwarna putih ditolak mentah2. Tahun depan, uniform kitaorg *hadoi la…* warna putih. Tapi rasa cam nak buat pants la, walaupun seumur hidup aku ni masih blum boleh menyesuaikan diri ngan seluar slack. Takpe, takpe. Anggap je it's a softer version of jeans, just wear, grin and bear it, huhu…

Ciao people!
Labels: My Chemical Romance, Personal