My Chemical Weekend : Part One
Life On The Murder Scene (2006)
* Additional stuffs serta dengan lebih screencaps (aku guna Image Shack sekarang sbb Photobucket is Not Okay) setelah menonton buat kali ke 16 sebab aku tak dapat balik kampung sebab banjir dan terpaksa lepak KL untuk 4 hari tambahan pulak anak aku dah nak masuk sekolah hari Rabu nih. *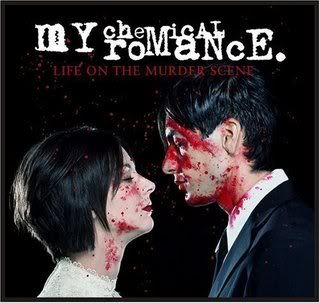 "Amboi! Tak berkelip!"
~ Abah Ikmal

First of all, that's a lot to Sha Shinizzle (rhapsody dot blogsome dot com) for burning and sending this DVD to me. I really, really appreciate it! (Sha, you should see me when I opened my MIL's mailbox to find this envelope inside. * squee!!!* Rasa cam nak melompat!!!

Ok, DVD ni consists of 2 discs. DVD 1 mengandungi kisah tentang MCR (the beginnings, the band members, influences, etc), dan durasinya aku rasa ialah close to two hours!!!! Sampai kul 1.30 pagi, aku tunggu2 alamak, bila nak habih ni??? DVD 2 tak tengok lagi nih. Macam nonton wayang, yo! Tapi takpe, pasal diaorg, Aiman tak kisah. :P. DVD 2 pulak consists of the videos (Ghost of You, Helena dan dua versi I'm Not Okay, termasuk TMO-nya sekali), the live performances, online performances serta TV appearances. Dan ada satu CD dikeluarkan sekali bersama2 ngan DVD ni, (aku dah donlod dah), mengandungi 11 lagu2 live, demo, serta lagu previously unreleased, Desert Song dan sebuah lagu demo, Bury Me In Black.

Note: If I mentioned Linkin Park, aku membuat some sorta perbandingan dgn diorang punya DVD – Frat Party at the Pankake Festival (2001, which was made pre-Meteora). DVD MCR ni, pre-Black Parade, but we have some preview to 'I Don't Love You'. :)

THE DVD :: IN A NUTSHELL

Thumbs up/ My favourite moments:

1. Their struggle to the top. Kita dapat tengok betapa susahnya diorang nak survive (aku ingat lagi Gee kata ~ sometimes they survived on chips and stuffs, sangat berbeza ngan LP yang dapat elaun setiap minggu so that they can splurge on something 'healthier'.
2. Frankie's family. Man, they looked so… 'normal'.
3. Masa satu radio interview ngan Ray and Gee, dan Ray bercerita tentang kematian nenek Gee, aku tengok Gee macam nak nangis jek. Such a softie…
4. Howard Benson – orang yang bertanggung jawab menjadikan Ghost of You the song it is today. (Kalau tak, tak dapat le aku dengar that orgasmic wailing dari Gee and awesome drumming dr Bob, hehe…)
5. Gambar Gee/ Mikey masa kecik. Dan Gee's school photo (alamak, tembamnya! LOL!!!) Can you imagine that they're gonna grow up to be the persons they are today?) And yeah, any scene featuring Gee's bedroom at their family home in New Jersey.
6. Mikey giggling like a pre-pubescent schoolgirl masa tengok gambar diorang dalam magazine.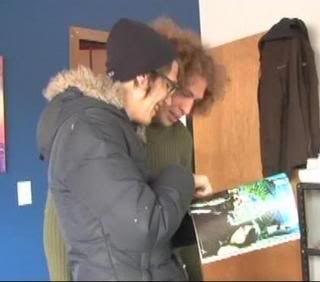 7. Any Gee/ Frankie moment.
8. Any Frankie shirtless scenes *pengsan*. Dan setiap kali Frankie beraksi tak kira di atas pentas, on the interview atau di dalam bunk in their tour bus, bergurau dgn Bob. (Oh yeah, Bob, Happy Belated 29th Birthday!!!)
9. The making of Ghost of You. For some reason, aku tengok Gee yang paling selalu di touch-up. Ngape ye? Hehe…
10. The DVD menu. Creative as hell, with morgue scenes, bullets, X-Rays, bloody lacy wedding gowns and blood. Lots of blood. (aku macam tau jek idea sapa tu...)



Thumbs down:

1. They need to learn a thing or two about hygiene. Boys, using Febreeze is so not cool. (In this case, aku lagi suka tengok tour bus LP yang jauh lebih kemas dan teratur, malah lengkap dengan TV, peti sejuk, microwave oven, PS, etc. ~ I noted muka Gee agak merah dan kemalu-maluan bila ada awek ni kata "it smells like sh!t in there". Shame on you :P
2. Give Mikey more screen time!!!!
3. Becoming More Theatrical? Like wtf??? Dudes, tiru Hiburan Minggu Ini is so not cool, yo.

MEMBER BY MEMBER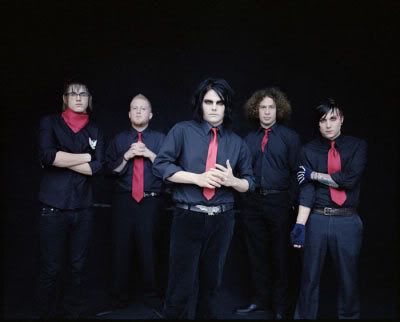 Gerard Way

Bila aku nampak para peminat tulis "MCR SAVED MY LIFE", baru la aku tau mengapa. Mereka ni menjadikan apa yang terjadi pada Gee sebagai satu example buat diorang. Pada satu ketika, beliau mengalami ketagihan arak dan dadah yang sangat kronik sehingga hampir2 membunuh diri. But not until he was talked out of it by the band manager. The point is, if you have problems, don't bottle it up. Talk to someone, find a close friend that can can help you get over it. Seperti juga Mike Shinoda, Gee juga sangat talented (dua2 pun daripada Art School). Man, I just love artistic guys!

Mikey Way

Adik Gee yang sangat2 mengkagumi abangnya. Beliau belajar bermain bass semata2 untuk join abangnya dalam MCR, dan dalam satu interview (bukan dalam DVD nih), beliau melihat Gee sebagai 'my favourite frontman', such a schweeeet lad… * goes all mushy * . Agak nerdy ngan speknya tuh, tapi aku rasa dia perlukan lebih screen time berbanding Ray. :P
And no, Mikey, kau tak layak jadi spiritual advisor untuk MyChem (although I won't argue with Gee's 'everybody's kid brother). I think Ray lagi layak and that's why he gets more screen time compared to you! :P (PS: Selain Gee's blond hair, aku rasa transformation Mikey untuk album TBP juga adalah salah satu yang sangat2 obvious la, with the glasses gone, it's like, no more Mr Nerdy Guy; Hello Mr Sexay!)

Frank Iero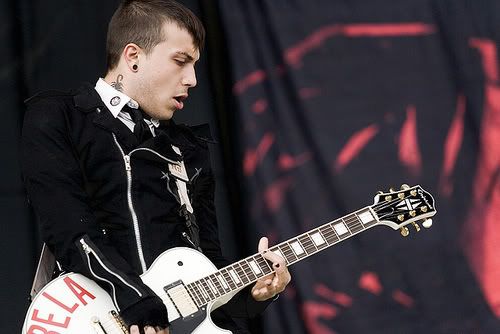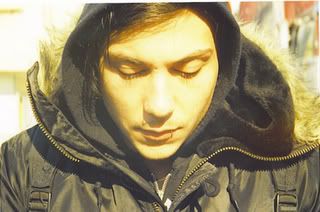 Everytime Frankie muncul di TV, is a good time. Underneath all those gaudy make-ups, tattoos and piercings, he's such a sweet young man. Aku suka masa dia jawab interview, (scene ngan background warna biru tuh, pakai beanie hitam and brown-striped shirt), OMG cutenya!!!! And I just love it bila si kecik molek ni beraksi (he's a mere 5'4"!), but he's like, putting all (I mean ALL) his energy into the show. Kinda OTT, imho, tapi that's Frankie for ya!
Aku boleh kira dengan jari jek, berapa kali Bob membuka mulut dalam DVD ni. Kira ok la, sebab dia pun memang tak suka gambarnya diambil, hehe. Remember the Swiper the Fox image? Kalau tak salah aku, semua tu idea gila Gee, and boy, aku boleh nampak betapa annoyed-nya Bob bila terpaksa di make-upkan stail tuh.

Ray Toro

Hadoi la mamat sorang nih… Ray, can I like, offer you a voucher for spa treatment or something? Asyik menggaru jek! :P Come on, man. You're gonna be immortalized in this DVD, dude. Dan dia juga antara yang paling banyak cakap berbanding Gee. Entah ngapa aku nampak dia ni iras2 macam penyanyi awal 90-an tu, apa kenamanya, ha… Klthum, LOLOLOL!!! Ahem. *serius balik* Ok. Maybe it's the hair.

Overall: Call me biased or anything, but I give it a *****!!!!
Cepat la release next one!!!!!
(aku penat la tengok/ donlod video2 kecik kat Youtube…)

Gambar2 dr buzznet dot com. LOTMS screencaps made and uploaded by yours truly. Jgn curik! Mintak takpe, hehe...

PS: Semua gambar untuk adik aku, yang kata dia tak tau mana satu Frankie, hehe…
PS: Aku paling benci bila internet slow. Hampeh :(
Labels: Films, My Chemical Romance