Thursday Thirteen #6
O twisted one, how do I love thee ?
Let me count the ways… (with pictures, yo!)

13 Things That I Love About Dexter.

1. The way he makes waking up every morning seems so…great…!



2. The way he masks the monster underneath, like, treating his colleagues to doughnuts… hell I wish he's my co-worker!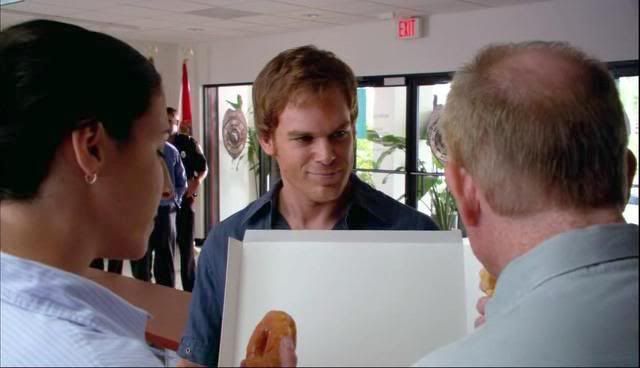 3. Read, research and revise…




4. …and practice makes perfect!




5. Preparation is vital. No details should be overlooked.




6. He knew how to get along with kids! (And they loved him too!)




7. And, turning his work into works of art. Damn cool cubicle deco, man!




8. And, did I mentioned that he's an organized person? How he carefully arrange those slides with the blood of his victims…




9. ..and how he helped his sister in her career. And yeah, he's got a hot looking sister, gentlemen! (That's Emily Rose, people!)




10. And how he feels so vulnerable when his gf feels insecure.




11. I can tell that he really enjoys his work! My father once said, if work is a duty, life is slavery.




12. He always answer the phone. Even if he's in the middle of an important 'project'. You'll make the caller feels special (especially if he's your insecure-single-mother-with-two-kids-cum-ex-victim-of-domestic-violence girlfriend)




13. And did I mentioned that he's really, really charming? (In a twisted way la…)




Dexter adalah siri terbaru yang aku suka. Mengisahkan tentang Dexter Morgan, siang jadi polis (pengkhususan dalam bidang percikan darah) dan malam jadi vigilante tak bertauliah, mencari dan membunuh penjenayah2 yang terlepas drp hukuman undang2. Berdasarkan novel2 tulisan Jeff Lindsay - Darkly Dreaming Dexter dan Dearly Devoted Dexter.

Mau lebih info? Klik sini --
http://en.wikipedia.org/wiki/Dexter_(TV_series)
Screencaps made and uploaded by moi.


Labels: Meme, Thursday Thirteen, TVgasm