RIP, My Favourite Weekend Companion...:-(
Masuk ni, genap la 2 minggu aku tak baca Weekend Mail. Sebabnya?
Keluaran 4-5 November 2006 nih…

Ze Front Page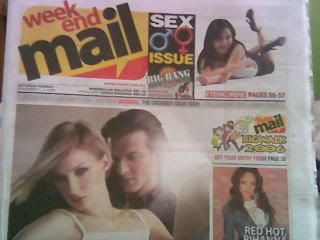 Ze Sport Page (FOOTBALLESTS?!?!?!!? Wtf is that?)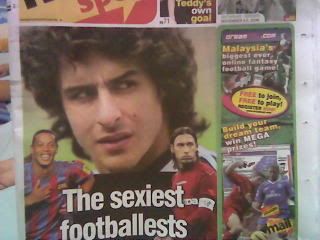 Seperti juga Galaxie, aku dah baca Weekend Mail sejak awal 90-an lagi. Masa tu namanya Malay Mail / Sunday Mail masing2 untuk hari Sabtu dan Ahad. Tak pernah miss, sebab it's kinda like a tabloid. Even kalau aku balik kampung pun, ayah aku tetap akan belikan aku senaskhah sebab dia tahu, aku suka baca paper ni. Sejak imejnya bertukar menjadi Weekend Mail ni, aku rasa ia lebih seronok dibaca dengan kertas yang lebih berkualiti, tapi pada harga yang sama (kinda like reading someone's blog, i.e Amir Hafizi, Fly Guy & Fabes, etc), cuma aku kurang senang dengan feature terbarunya iaitu Campus Babe (awek2 student yang seksi2). I dunno why they kept pushing the envelope by publishing the said issue on sex (you're asking for it, man!); you have to admit, media Malaysia tak sesuai untuk benda2 mcm ni.

Tapi ada sesuatu yg buat aku mcm tak puas hati, iaitu komen TPM tentang Weekend Mail, something in the line of "Diorang tak sepatutnya siarkan artikel2 macam tu. Sekarang ni, apa yang orang tak tau pun dah jadi tau."

I beg your pardon Sir, tapi bukankah ITU matlamat education? Memberitahu kepada yang tak tahu?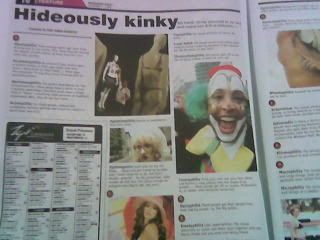 I'm definitely gonna keep this paper as a memento.
R.I.P, my beloved weekend companion, at least for now. I'll miss you. :(
Labels: Printed Materials