I'm In A Different League Now, People!
The League of the 30-somethings, that is!
Since this is my birthday post, I'll put every single wish I've received, *here*.
Enjoy, Zack!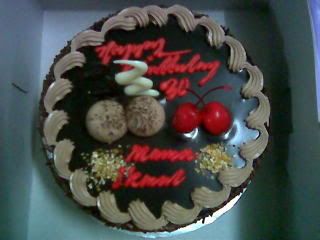 Along comel happy besdey 2 u dr mak dan ayah semoga along sentiasa sihat walafiat

– Mom via sms
(Mom's sms came a tad too late, i.e 9.30 pm. Aku dah nak merajuk, ingatkan aku jadi macam Samantha Baker dalam Sixteen Candles :(, but the fact is, my father has reminded my sister Ija, to wish me a Happy Birthday on behalf of the whole family, A DAY before my birthday. Poyo punya Ija, tak bagi tau aku!) Takpelah, lagipun aku lahir pukul 9.00 malam...mom knows best, what!






Happy birthday!

– Sofia via sms



Happy 30th birthday may ure wish comes true .. Dah agak tua tapi still cool

- Shida via sms
(Tua? Oleh kerana kau kata aku cool, aku maafkan kau, Shida)



Happy birthday 2 u!

– K Elly via sms







Hepi birthday tu yu.. Hepi birthday tuyu.. Bangun..

– Ija via sms
(sms sampai masa aku nak habis sahur)



A'kum cousin. Happy 30th bday & have a blissful year! Ampun & maaf 4 any wrongdoings. Take care!

– Cousin Dr. Azlin via sms



B'day kau arini ke besok? Anyway. Welcome to the 30 somethng club. Hapy birthday 2 u. – the newest member.

– Faiz via sms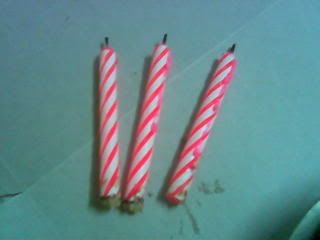 Ok sempat la nak bg pressie, card pun akak dah buat 2am this morning bru siap pergh if its for u its worth it! –

K Swan via sms

HAPPY BIRTHDAY TO U
HAPPY BIRTHDAY TO U
HAPPY BIRTHDAY DEAR ZACK
MAY ALL UR WISHES COME TRUE
Kak Swan via sms
(Kak Swan gave me a lovely home-made birthday card and a gorgeous pashmina shawl. Thank you vvv much, Kak!)


Hello Zack,
We at House M.D. Boards would like to wish you a happy birthday today!

administration@house-boards.com
via e-mail



HAPPY BDAY!Reload on & within 3days before/after BDay for 50% bonus.SELAMAT HARIJADI! Isisemula pd&dlm masa 3hari sebelum/selepas Harijadi utk 50% bonus

– DiGi via sms
(Oh ya, sebelum aku terlupa. Sudahkah anda mendaftar nombor handphone prepaid anda? You have until 15th December to do so!)
And just because...(I've waited like, 4 months to put up this particular video. Hawt!)
"The word I'd use to describe Wentworth is egoless. When you're the star of a hit show, nominated for Golden Globe, it would be easy to think it was all about you. But Wentworth refuses to be like that. I have seen girls go crazy for him -- they say they want to have his children. He handles it with profound grace. It's the same with his acting. He doesn't have to do a lot to convey a lot. For example, in one scene [my character] Sara lets it slip that it's her birthday, and Michael says 'Happy birthday.' When we shot it, Wentworth chose to say it at a moment when I wasn't looking at him. I didn't realize what he'd done until I watched it. He conveyed so much tenderness, it was so poignant, because she missed it all. We were watching the episode together, and when I saw that I turned to him and said, 'Awww. I might have a crush on you." -- costar Sarah Wayne Callies, TV Guide June 19-25, 2006

Thank you all vvv much, including those who called to wish me and those who wished me in person! *Muahs!*

Labels: Achtung, Personal, Wentworth Miller