Encik Batman + Encik Wolverine ? Ini lagi best drp. Dark Claw!!!
Every great magic trick consists of three acts. The first act is called "The Pledge"; the magician shows you something ordinary, but of course... it probably isn't. The second act is called "The Turn"; the magician makes his ordinary something do something extraordinary. Now if you're looking for the secret... you won't find it, that's why there's a third act called, "The Prestige"; this is the part with the twists and turns, where lives hang in the balance, and you see something shocking you've never seen before.
~ Cutter (as played by Michael Caine) on The Prestige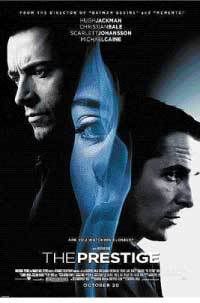 *** MAY OR MAY NOT CONTAIN SPOILER ***

Filem: The Prestige (2006)
Di mana: GSC Berjaya Times Square
Hari: Jumaat, 20 Oktober 2006
Masa: 12.15pm

Aik, bulan puasa pun gi tengok wayang?
Aku tau ini bulan Ramadhan dan aku tidak sepatutnya menjejakkan kaki ke panggung wayang, at least sehingga lepas raya, but the temptation is far too strong. Dengan dua ex- superhero bf's aku (Encik Batman dan Encik Wolverine) dan wanita hidup terseksi 2006 menurut majalah Esquire, serta Alfred si butler, siapa boleh resist ? (Tambahan pulak dah penghujung hari bekerja, semua orang dalam mood raya dan tiketnya cuma RM8 sahaja!).

Ok, filem ni pasal apa?
Filem arahan Christopher Nolan (Memento, Batman Begins) ini mengisahkan tentang Alfred Borden a.k.a The Professor (Bale) dan Rupert Angier a.k.a The Great Danton (Jackman) yang merupakan dua sahabat yang sama2 bekerja sebagai perantis untuk seorang ahli silap mata, sehinggalah pada suatu ketika, Borden telah melakukan satu kesilapan yang meragut nyawa isteri Angier (yang juga merupakan pembantu kepada ahli silap mata tersebut). Sejak berlakunya peristiwa itu, masing2 membawa haluan sendiri, membuat pertunjukan2 silap mata secara solo, sementara seorang lagi cuba mensabotaj pertunjukan tersebut (with appropriate disguises, of course). Perbalahan, dendam serta persaingan untuk menjadi ahli silap mata terhandal antara kedua2 rival ini sangat hebat, masing2 sanggup melakukan apa saja demi mendapatkan rahsia bagaimana sesuatu trick itu dibuat, sehingga sanggup mengorbankan apa yang disayangi (terutama trick terhebat yang diperkenalkan oleh Borden iaitu The Transported Man).




How's the acting?
Ah, Bale tidak pernah menghampakan aku. Beliau membawa watak Alfred, ahli silap mata kelas bawahan dengan begitu baik sekali (and not to mention he gets to use his Cockney accent, wheeeee!!!!!). Jackman, hmmm… aku suka melihat wataknya yang begitu obsessed untuk menumpaskan lawannya, sehingga sanggup berbuat apa saja. Scarlett Johannson? Ah watak tempelan sahaja, imho. Aku lebih suka Rebecca Hall yang memegang watak Sarah, isteri kepada Alfred.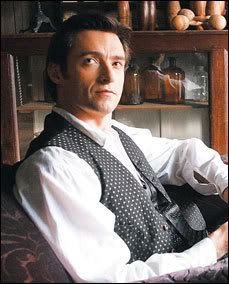 Babak terbest ?
Ironinya aku suka melihat bagaimana perkahwinan Alfred dengan Sarah menjadi retak (walaupun masing2 saling mencintai), semata2 kerana Alfred tidak bersedia untuk berkongsi rahsia silap matanya hatta dengan isterinya sekalipun (juga mungkin kerana kehadiran orang ketiga- Olivia (Johannson), tapi everything is not what it seems. And, also, be prepared for the twisted ending! Gila. The ending, which I will say 'wtf? ending' but in a good, spine-chilling way. *shudder *. Rasanya aku nak cari novel Christopher Priest ni soon.

Aku bagi : Two thumbs up. *****/*****. Definitely an Oscar material.

PS: Dan seperti yang aku jangka, Encik Alfred akan sentiasa memihak kepada Bruce Wayne ;)
Labels: Films