'Bring Your Kid To Work Day' ? Bah!
Satu ketika dulu, semasa aku nak membeli goreng pisang daripada sorang makcik nih, aku terperasan satu perkara. Anak makcik nih, sedang nyenyak tidur di bawah meja stall tersebut. Sleeping like nobody's business, tanpa menghiraukan pelanggan2 yang datang, mahupun hangat dari kuali goreng pisang yang berdekatan. Tak sangka hari ni turn aku pulak buat camtuh.*

My MIL demam, so anak aku takde orang nak jaga hari nih. Dan oleh kerana kerja aku melambak2, I can't afford to take more day-offs, so, terpaksalah bawak anak aku ke ofis.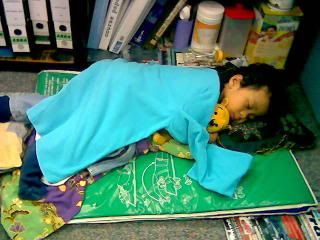 * Ok, so, the condition of my cubes is not as bad as the goreng pisang stall as mentioned above, but you get the idea.

Labels: Family, Ikmal, Motherhood