'Script Your Own Dr. Doom Panel' Meme
This is too hard to resist. From Dr Scott's website (click at the comic panel below).
Pretty resourceful site if you wanna get the medical explanation for those confusing medical gobbledygook on House MD.

An update on the "script your own Dr. Doom panel" meme: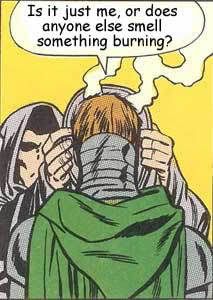 "If you SHOULD stew my brain, at least get a decent frying pan! And don't forget to grab some fava beans and a nice Chianti."

"Oh, wait. Who are you? Where's the evil emperor? Darn it, wrong movie."