The Prison Break/ Napoleon Dynamite Cross-Over
Aku ada post this stuff di dua daripada 5 forum Prison Break yg aku frequent. (Tak berapa kelakar kalau korang tak follow Prison Break atau belum pernah menonton Napoleon Dynamite)

Just imagine Sucre as Pedro Sanchez and Mike as Napoleon Dynamite (for those who had seen the hilarious film!)
Sucre : What are you gonna do today, Michael?
Michael : Whatever I feel like doing, gosh!
[during yard time]
Mike : So, we're pretty much friends by now, right?
Sucre : Yes.
Mike : So, you got my back and everything, right?
Sucre : What?
Mike to Sucre : You know, there's like a butt-load of gangs at this prison. This one gang kept wanting me to join because I'm pretty good with a bo staff.
[referring to Westmoreland's milk]
Mike : I see you're drinking 1%. Is that 'cause you think you're fat? 'Cause you're not. You could be drinking whole if you wanted to.
[while Mike was tracing the devil's face on his tattoo]
Sucre : Aren't you pretty good at drawing, like, animals and warriors and stuff?
Mike : Yes. Probably the best that I know of.
[after THAT hot kiss with Sara]
Sucre : Did you kiss her ?
Mike : Heck yes I did!
[on the night before the escape]
Sucre : Well, what are you going to wear tonight?
Mike : Just like a silk shirt or something.
[comparing hairstyles, or the lack of it]
Mike : Why do you got your hood on like that?
Sucre : Well, when I came home from PI, my head started to get really hot. So I drank some cold water, but it didn't do nothing. So I laid in the sink for a while, but then I realized that it was my hair that was making my head hot. So I went into the kitchen and I shaved it all off. I don't want anyone to see.
Mike : I know what you mean.

Sucre: Why are you so sweaty?
Mike: I've been practicing.
Sucre: Practising what?

Mike: Some dance moves (drinks water quickly)
[referring to T-Bag]
They're pretty good, except for one little problem. That little guy right there. He is nipple number five. A good dairy cow should have, like, four.
[referring to Tweener]
Hey, is that a new kid or something?
[during the digging session]
Michael : Ugh. Linc hasn't done flipping anything today!
[
to Sara, just before she administered his insulin shot]
Michael : I don't need herbal enhancers to feel good about myself. And if you're so concerned about that, why don't you try eating some yourself?
Mike : How long did it take you to grow that moustache?
The Pope : A couple of days.
Mike: I wish I could grow one!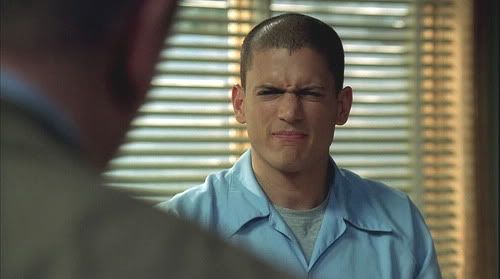 [on the guard uniform]
Mike : Sucre, how do you feel about that one?
Sucre : It looks nice.
Mike : Yeah, it looks pretty sweet. It looks awesome. That suit, it's... it's incredible.
[on seeing Linc for the very first time]
Linc : How was prison?
Mike : The worst day of my life, what do you think?
Linc : What are you doing here, Michael?
Mike : Grandma took a little spill at the sand dunes today. Broke her coccyx.
[just before the escape]
Sucre : If we make it, you can be my secretary or something.
Mike : Sweet!
[talking about the breast enhancers to T-Bag]
Why don't you sell some to your girlfriend. Might as well do somethin' while you're doing nothin'.
[comforting Sucre about Maricruz]
Mike : Nika is *the* best thing that has ever happened to me. I'm 100% positive she's my soul mate. Don't worry Sucre, I'm sure there's a babe out there for you too. Peace out.

Haha, salah sorang member forum aku, Te Raina dari New Zealand, siap buatkan satu video ni untuk aku, hehe…

Di sini-- >
http://www.youtube.com/watch?v=FZEg6DwG7ZA
.

Labels: Films, Prison Break, Wentworth Miller