Before They Created The Blog...
Aku memang suka menulis. Dari dulu lagi. Kekadang aku pun tatau apa yg aku tulis, tak kira apa apa, janji aku dapat luahkan dalam kertas, dan sejak kenal dunia blog, inside my blog. And since aku sekarang masih dilanda demam Wentworth / Prison Break yg dah masuk musim kedua (seriously, aku tatau bila akan berakhir… I seriously need professional help) aku tatau bila lagi aku nak update this space. Dan aku memang taip cepat sebab banyak benda yg terlintas dalam kepala aku yang perlu dikeluarkan sebab takut RAM otak tak cukup.

Oklah, apa yg aku bebelkan ni. Entri ni ialah sesaja nak berkongsi ngan korang apa yg aku dah buat SEBELUM aku kenal dunia siber. Mak aku ada hadiahkan sebuah buku ni selepas SPM dan aku suka menulis apa2 yg terlintas kat kepala. Kira the earlier version of my blog la, hehe…

Entri tentang Mc Teddy Bear yg satu ketika dulu menjadi kegilaan ramai. Gambar2 tu ialah drp alas dulang McD (aku suka collect benda2 gitu), circa 1998.




Entri 4 mukasurat tentang siri FRIENDS (siri kegemaran aku masa tu, around tahun 1999)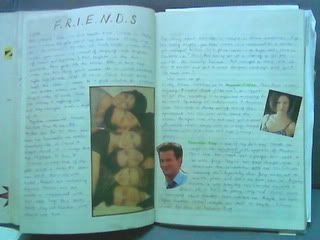 Salah satu entri kegemaran aku- kenapa aku suka pakai warna hitam…




Entri terakhir aku iaitu masa aku resign drp audit firm tanpa ada back-up. Aku tension gila, menjajau cari kerja dari satu agensi ke satu agensi, dan dalam tension2 tu, sempat jugak layan filem Spiderman 2 (2004).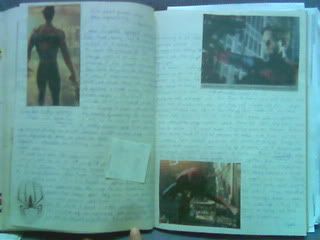 Labels: Personal, Printed Materials