The Ultimate Couch Potato Meme
Anda dikehendaki memilih 6 siri TV yang selalu ditonton sebelum menjawab soalan2 yang diberikan. (aku baru aje dpt DVD siri House utk musim pertama dan kedua, aku masih belum pernah menonton Supernatural, dan aku juga telah lost dengan Lost sejak menonton Prison Break, jadi aku pilih rancangan2 yang aku minat, aku follow dan aku suka). (Disclaimer: Aku citer berkenaan watak2 fiksional sahaja, tak berkenaan dengan pelakon2 sebenar. Mati la mak kalau kena slap dengan lawsuit nanti. Takde sapa yg sanggup mentatu separuh badan dan masuk penjara dengan sengaja untuk keluarkan aku, huhu…)

Ok, here goes…

1) Prison Break
2) Firefly
3) nip/ tuck
4) Queer Eye for the Straight Guy
5) The X-Files
6) Sembilu

1. Who is your favorite character from #2? (Firefly)
Captain Malcolm Reynolds (Nathan Fillion) of course. Handsome, rogue-ish, charming, charismatic and reminds me of Han Solo.

2. Who is your least favourite character from #4? (QeftSG)
Carson Kressley (The Fashion Guru). Ugh. Terlampau sotong for my taste. (I like Jai better)

3. What would a crossover between #1 and #5 include? (Prison Break and The X-Files)
Wow, just imagine Fox Mulder (David Duchovny) dan Michael Scofield (Wenty-poo) dalam satu siri. Phew. Mungkin Agen Mulder akan ditugaskan mencari Michael dan abangnya. Aku boleh bayangkan bagaimana Mulder akan mengutarakan teori2 konspirasinyanya tentang bagaimana Michael Scofield boleh melarikan diri drp penjara yang dikawal ketat, dan apa muslihat di sebalik pembunuhan Terrence Steadman, adik Timbalan President US of A.

4. Who is your favorite ship from #6? (Sembilu)
Sudah semestinya Diana (Azzarima) ngan Fendi (Zed Zaidi). Zetty (Hetty Sarlene) is too whiny sometimes, dan kalau aku jadi Fendi, hmm.. kekdg malas nak layan kerenahnya. Udah le kena dok ngan mertua pulak tu… nak kena layan kerenah abang ipar lagi…hadoi la…

5. If you were to set one person from #3 and one person from #6 on a blind date, who would they be? (nip/tuck and Sembilu)
Haha, mesti kelakar gila! Aku akan setkan Dr Christian Troy (Julian McMahon) ngan Diana la, sapa lagi. Mungkin beliau boleh tolong adjustkan sikit botoxnya yang dah beralih tu, hehe… Tambahan pulak, dua2 jenis yg gatal, memang seswai gitu..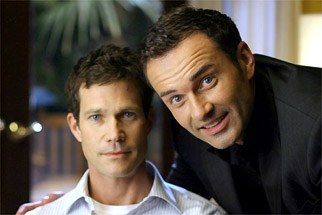 6. If you could meet one person from #4 and spend the day with them, who would it be, and what would you do? (QEftSG)
Thom Filicia the Design Doctor. Aku akan mintak tips bagaimana nak mencantikkan rumah dan mintak tolong dia buat makeover utk rumah sewa aku tu. Aku lebih suka stailnya berbanding dengan Eric Leong.

7. If you could change one thing about #2's plot line, what would you change? (Firefly)
Hmm.. tak perlu tukar. Cukup sekadar menyambung kembali siri TV Joss Whedon kegemaran aku ni.

8.Explain a relationship between two people (not necessarily romantic) from show #5, and why you like the relationship between them. (The X-Files)
Fox Mulder dan Dana Scully (Gillian Anderson), suatu ketika dulu pasangan kult yang paling aku minati. Aku suka bagaimana kedua2nya mempunyai sejarah silam masing2 dan bagaimana mereka bekerja bersama walaupun dengan idealogi2 yg berbeza (Mulder dgn teori2 makhluk asingnya, sementara Scully sering menggunakan common sense dan penjelasan saintifik) Dan bagaimana mereka mengekalkan hubungan platonik antara satu sama lain, tanpa resorting to some romantic relationship.They were so cool then.

9. If the lead title characters (first name in the credits) from #1 and #3 were both drowning, and you could only save one, who would it be? (Prison Break-Lincoln Burrows (Dominic Purcell) ; nip/tuck – Dr Sean McNamara (Dylan Walsh))
Dah tentu Dr McNamara. John Doe memang dah tau berenang, hehe…

10. If you could change the title characters' order in the credits for #4, what order would you choose? (QEftSG)
Dah ok rasanya (nama Carson keluar last sekali, I think).

11. If you were able to add a new character, any kind of character you wanted, to the storyline for #6, what would the character be like and what would their role be? (Sembilu)
Aku mintak Datuk Yusuf Haslam tambah lagi satu watak penyanyi lelaki di syarikat rakaman tu, di mana beliau akan cuba mengorat Fendi yg jambu tu, sebagai satu saingan kepada Diana. Pelakon yg seswai – Zulhuzaimy. Please. Hehe…

12. What happens in your favourite episode of show #2? (Firefly)
Dah berakhir tanpa sambungan di episod 13, tetapi telah disambung dalam filem Serenity. Di akhir filem, beberapa watak utama telah pun mati iaitu pilot Serenity (Hoban 'Wash' Washburn, lakonan Alan Tudyk) di mana tempat beliau diganti dengan River Tam (lakonan Summer Glau) dan juga Shepherd Book.
Episod kegemaran aku ialah Out Of Gas, dimana kita dapat lihat bagaimana sayangnya Captain Reynolds kepada kapal Firefly-nya iaitu Serenity. Satu episod yang moody dan serius, berbeza dengan episod2 lain yang kebanyakannya agak ringan dan kelakar. Juga babak2 flashback tentang bagaimana beliau merekrut kru2 kapal Serenity, bermula dari Zoe, hinggalah Jayne Cobb.

13. If you could kill off one of the characters of #1, who would it be and how would you do it? (Prison Break)
Ah, semestinya Charles 'Haywire' Patoshik. Bengang gila aku tengok dia dapat menyelamatkan diri dengan basikal budak perempuan tu…

14. If you got the chance to visit the set for either show #3 or show #5, which would you choose? (nip/tuck ; The X-Files)
Dah tentu X-Files. Aku ingin sekali melawat tapak2 penemuan UFO, makhluk2 ganjil, dan semua sekali yang berkaitan dengannya.

15. So, I saved the best question for last. If you could date anyone from any of these shows, which show and which person?
Sudah gaharu cendana pula. Dah tentu la Michael Scofield. (icon2 dari livejournal giveitmegood. Thanks!)







16. Sapa patut buat ni?
Sesapa aje yang fikir dirinya 'kentang sofa'. Sila bagitau kalau korang buat di blog korang. Aku pun nak tumpang sekaki!
Labels: Firefly, Meme, Prison Break, TVgasm, Wentworth Miller