Ladies and Gentlemen, My Cubicle...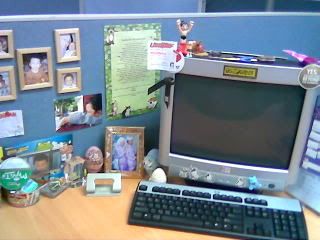 My beloved PC. Aku tak boleh hidup tanpa PC dan internet! Oh ya, ingat tak dulu aku letak gang Hamtaro kat atas monitor tu? Habih semua aku bagi kat adik aku, malas dah nak simpan benda2 tu. Sekarang ni kat atas tu ada Atom (dari Astro Boy), Nobita (dapat drp coklat Kinder yg berbentuk telur tu), seekor kangaroo, dan ada lagi dua tiga benda2 tidbits yg aku dpt dari bungkusan makanan ringan. (Sekarang ni dah ada addition of 3 Malaysian flags. Meriah gila!) Oh ya, aku juga ada tampal doa utk tempat kerja (aku sepatutnya tambah- Ya Allah, berilah aku kekuatan utk tidak melayari internet di waktu pejabat) dan juga zikir harian (kekadang terlupa gak..:-?)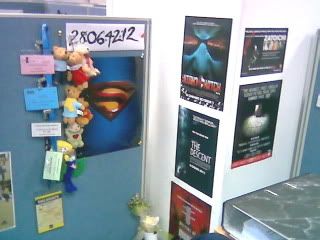 Aku tak tengok pun Superman, but I think that the poster is pretty cool. Oh yeah, I also collect cute lil teddy bears (as long as it's not more than 12cm), and most of them comes free with toothpaste, deodorant, etc. Also the tags from accounting-related courses that I've attended over the past two years. Dan nombor2 dari filem Donnie Darko – 28:06:42:12. Masuk ni dah tiga orang tanya tentang nombor2 tu. Juga poster2 filem yg aku potong dari majalah flem kegemaran aku – Empire, i.e Night Watch, Zatoichi, Primer, the Descent dan Masters of Horror.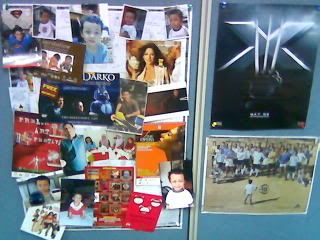 Haha, aku macam Sara Tancredi- seorang pack-rat. I never throw away anything! Memula aku letak sampul hadiah tu je (real nice one from a.e.i.o.u, aku beli di mph), pastuh letak gambar2 Ikmal pulak. Lepaih tu lelama aku letak segala tok nenek poskad/ flyer/ bookmark/ iklan yg aku rasa menarik. Walaupun aku ni memang buta pasal bola, poster Adidas tu aku sesaja je letak sbb nampak cool giler! Whoever made that ad is a creative genius!!!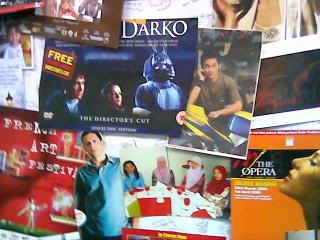 The cacamarba board – details. Among others, pics of Went, Zulhuzaimy and countless flyers and promos yg aku kutip from everywhere. Recent addition- flyer filem Snakes On The Plane. And yeah, my pic is also there. If you looked real hard you can see how I look like!
Labels: Personal