Prison Break - Season Finale

*spoilers alert !*

Akhirnya. Lepas lebih sebulan menunggu, aku berjaya juga mengkhatamkan siri TV terhangat di pasaran ni. Memang *toot*, sebab walaupun musim pertama sudah berakhir, namun kita masih ditinggalkan tergantung di Episod 22 ini, di mana Scofield dan Team Escarpara berjaya juga melepasi dinding Penjara Fox River dan sedang melarikan diri drp polis. Diibaratkan seperti sedang asyik berdayung ditengah2 lautan, tiba2 terpaksa memberhentikan pelayaran di tengah jalan. How would you feel? Shitty, ain't it ?

So, apa cerit dengan Team Escarpara ?

Setelah bertungkus lumus melepasi segala halangan, serta tercedera di beberapa kawasan (termasuk sebahagian drp tattoo-nya yg seksi tu akibat melecur), akhirnya Michael berjaya ke infirmari, di mana mereka akan meloloskan diri drp bilik tersebut. Kini, Team Escarpara suda ada 9 orang, T-Bag (masih dgn t-shirt putih ketatnya itu), Lincoln (abang Michael), John Abruzzi (ya, sejak keluar dr hospital akibat dikelar oleh T-Bag, beliau menjadi semakin creepy), Sucre (cellmate Michael), Manche (sepupu Sucre yg sama2 menolong Michael dan gengnya), C-Note, Charles Westmoreland (yang menyembunyikan kecederaannya akibat satu pergelutan dengan Bellick yg kini menjadi penyumbat lubang yg telah di gali di bilik rehat CO tu) dan budak klon Vanilla Ice, Tweener. Di tengah perjalanan, mereka diugut oleh seorang lagi 'ahli' yg mahu sama2 melarikan diri, iaitu Haywire (yg telah mengetahui rancangan Michael ketika beliau dimasukkan ke psyche ward sedikit masa dulu).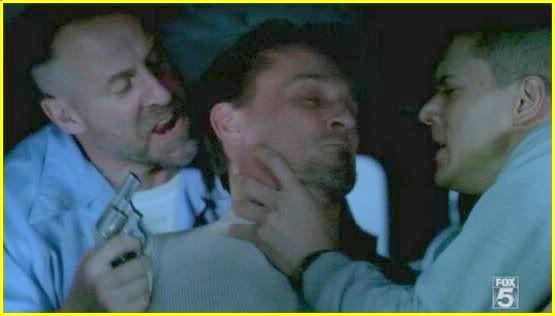 The best threesome. Ever. (Episode cap from JustJared.com)

Huh? Apa jadi dengan Sara Tancredi ?

Sara menghadapi dilema, kerana Michael telah memberitahunya tentang rancangannya untuk melarikan abangnya dr penjara, dan meminta bantuan beliau agar 'terlupa' mengunci pintu infirmary. Sara serba salah, tetapi setelah mengetahui pakatan antara bapanya, Gabenor Frank Tancredi, dengan Naib Presiden Reynolds, beliau akur dengan permintaan Michael. Dengan perasaan bersalah dan frust, beliau telah mengambil morfin berlebihan dan nampak gayanya mcm dah mati akibat overdose…(or not?).

Bagaimana pula dengan Veronica dan Nick Savrinn?

Nick sebenarnya telah diugut oleh Abruzzi untuk menyerahkan Veronica kpdnya, sebagai ganti kepada nyawa bapanya (sebagai 'insurance' kata Abruzzi). Nampak gayanya memang membara betul dendam Abruzzi kepada Fibonacci. Dengan berat, Nick melepaskan juga Veronica serta mengarahkan beliau utk ke Blackfoot, Montana dan berdepan dengan Terrence Steadman, abang VP Reynolds yg dikatakan telah dibunuh oleh Lincoln). Namun, nasib Nick agak malang….

Funniest bits

Gelagat Sucre ketika mahu menghidupkan enjin kereta yg dijumpainya. Dan Haywire, yg melarikan diri dengan sebuah basikal budak perempuan ! (siap dengan helmet lagi!). Juga nasib malang T-Bag, yg kini agak sukar jika mahu mengajar kanak2 menghafal sifir 9.

What's up for the next season?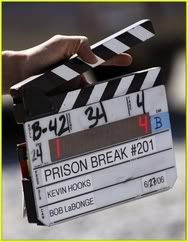 Image from JustJared.com
Labels: Prison Break, Wentworth Miller