Mutan-mutan Kembali Lagi!!!
X-Men 3 : The Last Stand (2006)

* may contain spoilers *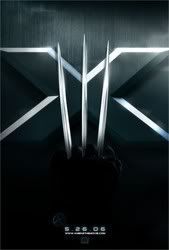 Time : 12:00 pm
Venue : GSC Berjaya Times Square
Kudapan : Combo popcorn caramel medium dan Coke

Apa cerit?
Penawar mutan telah ditemui. Golongan mutan terbahagi dua; satu yg mau dipulihkan dan menjadi manusia biasa, dan satu lagi yg mahu terus menjadi mutan. Jean Grey masih hidup dan kuasanya semakin mengancam. Dan Wolverine. Wolverine menjadi semakin macho. Damn!

Mutan2 regular
Wolverine. Is. So. Hot. Hotter than the Dark Phoenix. Jean Grey- hmm, dunno why setiap kali aku tgk Famke Jenssen aku mesti terbayangkan watak Ava Moore, sang transeksual dalam siri Nip/Tuck. Oh ye,Pyro dah jadi anak ikan Magneto sekarang. Dan, Ice - damn, ini satu lagi muka yg malas aku nak tgk (akibat drp penangan siri bangang Earthsea). Watak Rogue (Anna Paquin) pun tak banyak muncul (Man, I really loved her in the first one…). The ever-so-sexy Mystique dah tak seksi lagi dan screen time-nya sangat terhad ("She used to be so beautiful" kata Magneto). Storm, hmm, just being her usual self…

Bagaimana dgn mutan2 baru?
Angel- aku suka tgk kemunculannya semasa babak flashback '10 tahun dulu'. For the rest of the film, wataknya tak berapa menonjol, dan terhad kepada hajatnya yg ingin membuktikan dirinya kpd si ayah.
Beast-I got a warm fuzzy feeling semasa dia pertama kali berjumpa dgn budak Leech tu, but for the rest of the time, he reminds me of Nazim Masnawi (Darn it!) And he's a great fighter, too.
Juggernaut: "It's Juggernaut, you b*tch!" Damn, Vinnie Jones sangat kelakar!

Babak paling best (hands down…)
A tie between Magneto's Golden Gate Bridge scene and the final showdown between the Dark Phoenix and Wolverine in Alcatraz, dan declaration dr Wolvie (OMG, HE CRIED!!!! COMELNYA!!!!!!! DAN, DAN, DIA SHIRTLESS!!!!!! Ok, Zack stop it.)




Thumbs down
Filem ni cuma 104 minit aje. Damn you, Brett Ratner!!! Dah tau nak buat finale, extend la sikit, dua atau tiga jam, dan beri peluang utk watak2 mutan lain menonjolkan diri. Dan beri Logan lebih masa di skrin (man, I love that uniform!). Dan desas-desus yg mengatakan bahawa Josh Holloway akan muncul sebagai Gambit ternyata khabar angin belaka (ok, ok, aku dah lama tau pasal ni), tp lebih seronok kalau Sawyer ada sekali dalam filem ni. Aku suka watak Gambit, terutama dalam kartun X-Men pagi2 hari minggu tu.

Tungguuuuu!
Wait after the credit rolls, ada babak surprise. (Masa ni tinggal aku ngan dua org kakak cleaner Indon yg sibuk mengutip bekas2 popcorn dan air.) Dan satu kakak tu bagi tau 'Ada sikit lagi kan, dik?'. Aku jawab, 'Ye kak', (bacaan minda : "sebab tu la saya dok terpacak kat sini walaupun bladder saya dah penuh dan tak sabar2 nak ke tandas ni kak oiiii!!!"). Dan watch out for the cameo dr the man himself, Stan Lee, di awal filem.

Aku bagi : ****1/2 / ***** (my imdb rating is 10, though)

Next up for the geek:

Wolverine (2007)
Kehadiran Hugh Jackman saja dah cukup membuatkan aku menonton filem ini di layar besar.

Superman Returns (2006)
Harap2 Bryan Singer dapat memberikan yg terbaik, mcm dua filem X-Men yg terdahulu.

Ghost Rider (2007)
One of my first comic books, nak tgk juga adaptasi ke skrin besar. Harap2 tak sebosan Spawn.


Notakaki:
X-Men merupakan francais filem yg aku tunggu2. Aku siap join the road show masa diorang release the first film dulu, back in August 2000. Dan as usual, semuanya aku tgk di layar besar. Dan keluar panggung dengan senyum yg lebar sampai ke telinga.
Labels: Films