Kod Yang Sedang-Sedang Aje
The Da Vinci Code (2006)


* may contain some spoiler for those who haven't seen the film AND haven't read the novel *

Time : 12.30pm
Venue : GSC Berjaya Times Square
Kudapan : Popcorn karamel besar dan Coke, percuma folder X-Men 3.

Aku baru tau yg panggung GSC di Berjaya Times Square ni ada di dua level (aku tak pernah lagi meronda di pusat membeli belah ni, walaupun lokasinya cuma sepelaung dari ofis aku dan all this while aku nonton di level yg ada Kenny Rogers tu). Punya la pulun aku gi cari Hall 1, mengikut arahan budak jaga tiket tu ('turun escalator, belok kiri'), ropa2nya, ada satu escalator yg agak tersorok di sebelah snack bar tu. Hmmm, betul juga kata Sir Leigh Teabing. Kekdg kita tak perasan apa yg ada depan mata kita.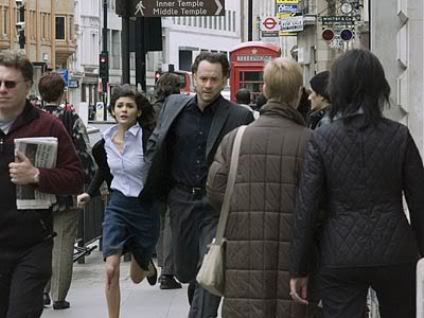 Satu perkara yg sampai sekarang aku tak faham ialah bagaimana sesetengah perempuan boleh berlari dgn memakai high heels tanpa terpelecok atau heelnya patah atau melecet atau sakit kaki...Hmmm, one of the mysteries of life...
Kebanyakan org yg dah nonton filem ni memberi advice- Stick to the book. It's far more exciting than this film. Tak tau kat mana silapnya. Tuan Direktornya- Oscar winner. Watak utama- Oscar winner juga. Heroinnya- Amelie Poulain yg agak kaku jika dibandingkan dgn watak2nya yg pernah aku tonton.

Dunno what went wrong this time, but the sound system kat sini sucks big time. Mcm dengar kaset lama yg ditinggalkan dalam kereta, dan terdedah kepada cuaca yg panas. Irritating gila.




Paul Bettany tanpa make-up geisha.

Silas. Aku rasa beliau adalah penyelamat filem ni. Wataknya adalah seperti yg aku gambarkan ketika membaca novel Dan Brown nih. Namun, kematiannya, tak sedramatik dalam novel. Dan jam Mickey Mouse Robert Langdon is just as I have imagined it to be. Cool.

Entah mengapa, aku semacam boleh gauge ke'best'an sesuatu filem berdasarkan tahap excited aku ketika masuk ofis balik. (Ye, my lunch hour on Fridays ialah drp kul 12.15 sampai 2.45.) Memula aku terperanjat beruk jugak, sbb in my past employments, lunch hour is only 1 hour, but then for the guys ada extension utk solat Jumaat. Dan sekarang ni, aku cuma akan nonton jika

1. Filem yg ditayangkan adalah benar2 best, dan aku dah lama menunggu filem tu ditayangkan;
2. Timing orait, i.e, filem start pukul 12.15 atau 12.30;
3. Bos aku mood baik, i.e., bukan peak period, dan workload tak berapa banyak.

Dan hari tu, aku kembali dari BTS dgn perasaan yg biasa2 aje, tanpa ada mood utk bercerita ttg filem ni.

RM11 yg tak berbaloi. I should have watched Man Laksa instead and give my fullest support to Mamat Khalid.

Bintang dari surga : ***/*****


Labels: Films