Great Scenes With Great Songs
My Top 10 Most Memorable Songs From Memorable Scenes

(in no particular order)

Lagu : Burn (The Cure)
Filem : The Crow
Babak : Transformasi Eric Draven manjadi the ultimate revenge machine. Watak Draven masa ni menggunakan orang lain (refer his images on the shattered glass), kerana Brandon Lee mati sebelum sempat shoot babak ni.
Satu lagi lagu yg best : Golgotha Tenement Blues (Machines of Loving Grace).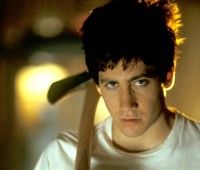 Lagu : Mad World (Gary Jules)
Filem : Donnie Darko (yg original, bukan Potongan Pengarah). Filem yg agak komplikated. Often imitated*, tapi none can beat the real thing.
Babak : Di akhir filem, bila apa yg sepatutnya terjadi telah terjadi (enjin kapal terbang tu betul2 jatuh atas bedroom Donnie dan menyebabkan kematiannya), dan bila kamera focus ke satu-satu karakter, dan Gretchen ended up not knowing him, gosh, it was so sad.
Lagu lain yg best : Head Over Heels (Tears for Fears). Hmm, kalaulah aku salah sorang watak dlm DD, aku nak jadi Cherita Chen. Chut up!

* Hari tuh aku tonton The Chumscrubber, dan banyak sangat reference dan similarity ngan Donnie Darko (bullies, watak fantasi bernama The Chumscrubber (mcm Frank the giant rabbit), juga THAT same scene at the end of the film (mata and all). Copycat !

Lagu : In The Waiting Line (Zero 7)
Filem : Garden State
Babak : Andrew Largeman (lakonan Zach Braff), bermain 'spin the bottle' dengan kengkawannya serta beberapa org gadis bawah umur, dalam keadaan yg lalok selepas mengambil pil ecstasy.
Satu lagi lagu best : Let Go (Frou Frou), di akhir filem.

Lagu : Tiada Lagi Kidungmu (Lefthanded)
Filem : Rock
Babak : Gig terakhir Zack (Hasnol Rahmat) dgn geng2 Rimba Bara, di majlis perkahwinannya. Siap dengan samping dan tengkolok !
Satu lagi lagu best : Dari Sinar Mata (BPR) yg dibuat stail old skool, lengkap dengan stesen keretapi dan angin sepoi2 bahasa gitu.

Lagu : Don't Dream It's Over (Crowded House)
Babak : Aku tak berapa ingat, tp ia dari mini siri The Stand (based on the book by Stephen King), the opening scene featuring the two main protagonists, played by Gary Sinise and Molly Ringwald.




Lagu : Stuck In The Middle (Stealers Wheel)
Filem : Reservoir Dogs (btw, Happy Belated Birday QT!!)
Babak : Mr Blonde yg brutal, lakonan Michael Madsen, menyiksa polis malang dengan memotong telinganya. Sambil menari mengikut rentak lagu ni. Haha, teringat pulak Malcolm Reynolds yg kena siksa dgn Adelai Niska dengan cara yg sama (refer episode War Stories, siri sci-fi Firefly).
Lagu lain yg best : The Little Green Bag (George Baker selection)- lagu masa intro.

Muzik latar : The Bridge of Khazad Dum (oleh Howard Shore)
Filem : LOTR: FOTR
Babak : Kinda blurry, but I think it was when the fellowship went thru the Mines of Moria, dan berjaya melarikan diri dari serangan orcs (or is it before their encounter with Balrog?)
Lagu lain yg best : Concerning Hobbits. One of the sweetest theme I've heard in years. Selalu juga dibuat lagu latar Kisah Benar.

Lagu : Every You, Every Me (Placebo)
Filem : Cruel Intentions
Babak : Annette Hargrove, lakonan Reese Witherspoon, dalam Jaguar kepunyaan Sebastian Valmont (Mr Witherspoon himself). Selepas membalas dendam ke atas Katherine (Sarah Michelle Gellar).
Lagi satu lagu best : Bitter sweet Symphony (The Verve)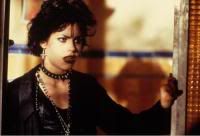 Lagu : Dangerous Type (Letters To Cleo)
Filem : The Craft (1996)
Babak : Transformasi high school bi****s into real witches. Lead by Nancy (Fairuza Balk, one of my fave hottest babe next to Selma Blair), these babes are the inspiration for the Charmed Ones (Piper, Prue/ Paige dan Phoebe). Even the Charmed theme song (How Soon Is Now by Love Spit Love) is first heard in the movie.
Lagu lain yg best: I Have the Touch (Heather Nova) – remake lagu Peter Gabriel.

Lagu : Sunshower (Chris Cornell)
Filem : Great Expectations
Babak : Gwyneth Paltrow ngan Ethan Hawke (Finn). Doin' you know what.
Lagu lain yg best : Siren by Tori Amos


What about you guys?