One Helluva Gorramn Movie !!!
Serenity (2005)

*may contain spoiler*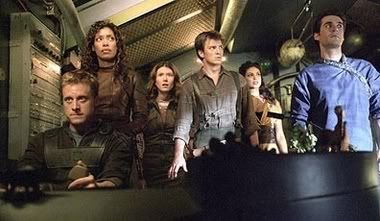 The dashing captain and his motley crew

"What were you expecting? Phasers? I don't make Star Trek. This is my story, told my way. It's something very different." Joss Whedon, Empire magazine November 2005

Well said, Mr Whedon. Well said.

What else can I say but WOWOWOWOW!!! Joss Whedon is my new sci-fi king! Ok, it may sound cheesy and fan-girlish-ish, but this movie is THE best thing since George Lucas's first three Star Wars movies. Walaupun sfx-nya lebih kurang tahap Star Wars masa bebaru kuar dulu. (remember, this was approx. 29 years ago), tapi, itulah yg membuat Serenity lebih mengancam! And feels very human. (Unless you're Frank Martin, Mal showed us that real men do tremble when he got punched.)




When critics and film reviewers called Malcolm 'Mal' Reynolds (played by Canadian Nathan Fillion) the new Han Solo, I was a bit skeptic. Until I saw this film, which truly reminds me why I fall in love with Harisson Ford's charming rogue in the first place (even though, at 63, he's as 'young' as my father). At least Mal has a band of loyal (albeit motley) crew, and Mr Solo, on the other hand, has only got Chewy as a companion (huuurrrrnngh, hurrnnngggh, everyday, how to tahan, man?)

I also loved the fact that there's a married couple on board, i.e Wash and Zoe. So lovable, addressing each other with honey and baby. Entah mengapa pasangan seluloid lebih menarik jika mereka married couples, e.g Mr & Mrs Smith, Dennis Quaid & Kathleen Turner dalam Undercover Blues, pasangan Cortez dalam Spy Kids…damn, they look dashing! And more interesting! Aku suka bagaimana Zoe me-maintain her composure ketika sesuatu yg buruk terjadi pd hubby-nya (mengingatkan aku kpd Bree van De Camp dalam Desperate Housewives- it really took some time for reality to sink in…)

The villain, aptly named The Operative, is a cold(hearted) Chiwetel Ejiofor (ah, bila kau dah feymes, orang akan ingat nama kau walau sesusah mana pun). Damn, Lola! (Tak sabar aku nak tgk dia dlm Kinky Boots!).

My fave bits:

"I swallowed a bug." River Tam (Summer Glau, dgn muka stoned.)
Damn, this film is so full of funny lines, aku takleh nak tahan gelak !

Fanty and Mingo
Probably my second favourite twins after Fred & George Weasley.

New flavour of the moment : Captain Malcolm Reynolds. Esp. bila baru bangun tidur, hehe ;-)

The whole movie is so fun to watch. In fact, lepas 2-3 kali tgk pun aku takkan bosan. Well done, Mr Whedon ! And kudos to the brilliant cast!

Me gives : *****/*****. A+ !