What's With Brit Blokes & Fast Cars?
The Transporter (2002)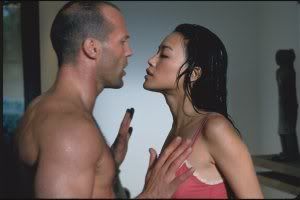 "Cik, dah berapa kali saya bilang, saya bukan James Bond"

Ex-Special Forces operator Frank Martin (Jason Statham) lives what seems to be a quiet life along the French Mediterranean, hiring himself out as a mercenary "transporter" who moves goods - human or otherwise - from one place to another. No questions asked. He has been hired by an American known only as "Wall Street" (see Rule Two) to make a delivery, but when Frank stops along route, he notices his "package" is moving. Violating his own personal rules, Frank looks inside the bag, finding its contents to be a beautiful, gagged woman. (Thanks, imdb!)

Dua sen aku : Filem hasil karya Luc Besson ni, (arahan Corey Yuen) mengingatkan aku kpd filem Yamakasi (muzik latarnya la). Lupakan unsur2 logik, kerana pada aku, filem ni mmg dibuat utk penggemar2 filem2 action-packed. Look out for the OTT oil fight scene. * shudder*

Aku bagi : ***1/2 / *****


Transporter 2 (2005)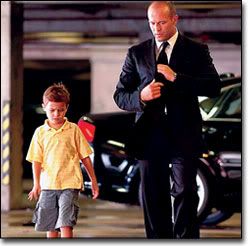 Frank dgn Jack Billings.
Professional driver Frank Martin is living in Miami, where he is temporarily filling in for a friend as the chauffeur for a government narcotics control policymaker and his family. The young boy in the family is targeted for kidnapping, and Frank immediately becomes involved in protecting the child and exposing the kidnappers. (From imdb)

Dua sen aku: Kerusi tuan director telah bertukar kpd Louis Leterrier (Danny The Dog), tapi jalan cerita lebih kurang sama. Wham- bam- thank you- maam action packed, kali ni, dgn penjahat yg lebih seksi (Lola, lakonan Kate Nauta).

Aku bagi : ***/*****

Filem2 Transporter nih, pada aku, tak lebih drp sebuah vehicle utk mengeksploitasi fizikal muskular Jason Statham, yg begitu macho, tapi mungkin salah satu breed lelaki zaman kini yg kian pupus kerana, selain drp pandai memandu secara berbahaya dan juga mempunyai skills martial arts yg mengkagumkan, Frank Martin juga, antara lainnya:

- mempunyai rumah yg cantik, lengkap dgn buku2 resepi dan ketuhar (di mana Lai lakonan Shu Qi membuatkannya kuih Madeleine dalam T1);
- sangat mementingkan kebersihan ("You can see how a man treats himself from the way he treats his car", kata Tarconi, sahabat baiknya)
- pandai melayan kanak2 (bermain teka-teki dgn Jack Billings dlm Transporter 2);

Agak ironik, kerana aku jatuh minat dgn Clive Owen setelah melihat wataknya sebagai The Driver yg misterius dalam filem2 BMW. Maybe I got this thing for brooding Brit blokes with flashy, fast cars. Woah.
Labels: Films