Oh serious, serious, serious...
Aku terjerit 'Cillian !' ketika beliau muncul selama lebih kurang 5 saat ketika namanya dicalonkan utk Pelakon Lelaki Terbaik utk kategori filem Muzikal/ Komedi semasa Anugerah Golden Globe tempoh hari.. That smile! Lupa lak Abah Ikmal ada kat belakang…

Filem pertama Cilly yg aku tonton ialah 28 Days Later. Kemudian dia muncul sbg watak villain Scarecrow dalam Batman Begins. Ramai berpendapat filem2 ni bukanlah filem terbaik Cilly, dan berpendapat beliau lebih menyerlah dalam filem2 terdahulu spt. On The Edge (2001) dan Disco Pigs (2001). Damn, aku dah pegang CD OTE masa Speedy Berjaya buat clearance sales hari tuh, tapi aku tak beli pun (instead aku beli Spongebob Squarepants utk Ikmal).

Breakfast on Pluto (2005)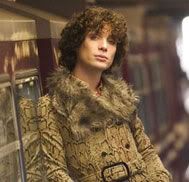 'If I take something serious, I might start crying and never stop'

Cillian ke tu? Sangat cantik, kerana aku hampir tak kenal wataknya sebagai Patrick 'Kitten' Braden. Set dalam era 60-70-an di Ireland, ia mengisahkan seorang pemuda transvestite yg cuba mencari ibu kandungnya yg meninggalkannya di luar pintu seorang paderi (lakonan berkesan Liam Neeson) ketika masih bayi. Berdasarkan novel tulisan Patrick McCabe.

Babak best:
Ketika Kitten di-hipnotise oleh Stephen Rea (aku lupa nama wataknya), dan dia berlari2 ke sana ke mari, kerana menyangka org tersebut adalah ibu kandungnya, it's really heart-wrenching.

Kitten di peep club. Di atas buaian. Ketika berbicara dgn Liam Neeson. Excellent.

* spoiler * Ketika Kitten bertemu dgn ibu kandungnya (dia menyamar sbg wanita yg membuat survey), that brings me really close to tears. Walaupun dia tak bagitau perempuan tersebut yg dia adalah anaknya, man, that really reminds me of Ho Yuhang's Min. So close, yet so far away…

Aku juga suka fantasi2nya, eg ketika bermain football dgn gaun yg bergemerlapan, menyamar sebagai perisik yg bersenjatakan minyak wangi, hmmm…

I'd gladly give it *****/*****.
Excellent, and I would definitely watch it again. And again.

Red Eye (2005)



Cilly & McAdams dalam babak faveret aku.

'Whatever female-based, emotion-driven dilemma you may be dealing with right now, I sympathize with you. But right now, we need to break this down into male-based, fact-driven logic.'
Jackson Rippner

Bad, bad boy, Cilly.

In a nutshell : A woman is kidnapped by a stranger on a routine flight. Threatened by the potential murder of her father, she is pulled into a plot to assist her captor in offing a politician. (From imdb.com)

What else can I say? I bought this DVD solely for the purpose of watching Cilly. So, screw the plots, storyline, etc, walaupun diarahkan oleh salah sorang film-maker horror faveret aku, Wes Craven.

Me gives : ****/*****.
Labels: Films