Jangan tenung aje, makanlah !
American Psycho (2000)

Reviu ini ditulis selepas aku mengelap air liur yg meleleh depan TV selepas menonton filem ni..hehe ;-)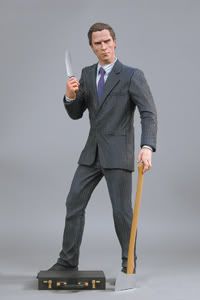 The closest thing you can get… (fr toychest.diamondcomics.com)

In a nutshell : Filem arahan Mary Harron ni mengisahkan ttg Patrick Bateman, (lakonan mantap Christian Bale) seorang yuppie yg kacak, terpelajar dan mempunyai kerjaya yg bagus. Tapi, pd waktu malam, beliau gemar membunuh tanpa sebab, selain melakukan perkara2 yg ganas dan kejam. Berdasarkan novel Brett Easton Ellis.

Woah.

I think I'm gonna change my morning routine after this…

1. Ketika bangun tidur, jika muka anda nampak sembab, letakkan bungkusan ais pada muka. Jgn lupa membuat senaman otot perut. Selalunya cuba buat hingga 1000.
2. Selepas itu, jgn lupa gunakan deep pore cleanser lotion. Dan semasa mandi, gunakan gel mandian berasaskan air, kemudian scrub badan madu dan badam, dan jgn lupa gunakan exfoliating gel scrub pada muka.
3. Lepas tuh, sapukan mask muka herb-mint selama 10 minit.
4. Jgn gunakan after shave yg beralkohol kerana ia membuat kulit muka menjadi kering dan membuat kau nampak tua. (Ahem, not applicable for me, though)
5. Kemudian, gunakan pelembab, bam mata anti-aging dan akhir sekali, moisturizing protective lotion.

(Aku sukak babak ni. *Drool… Trivia filem di imdb.com, in the DVD commentary, Mary Harron says that during the first shower scene with Patrick Bateman, all of the women on set gathered around to watch Christian Bale wash himself. * sigh* I wished I was there…;-))

Scene2 yg best:

1. Hip To Be Square dance. Dgn baju hujannya, Bale nampak cheeky sekali. (I mean sebelum dia mengapak kepala Jared Leto la)
2. The threesome scene. Bukan the sex thing, but the way Pat Bateman checks himself out in the mirror, man, you can't be vain-er that THAT!
3. The business card scene. You can see ENVY written all over Bateman's face.
4. Every time Pat Bateman rants about music, man he makes Whitney Houston and Phil Collins seems cool for a second there.
5. Did I mention the shower scene?

Dejavu : Babak Pat Bateman berpisah ngan tunangnya Evelyn (lakonan Reese Witherspoon), lebih kurang sama kmcm babak clash Elle Woods (juga Reese) dalam Legally Blonde.

Hmm.. kalaulah Leonardo DiCaprio yg berlakon sbg Pat Bateman (spt yg di awal perancangan), haram aku takkan tonton filem nih sampai sekarang. Dan kalau le Christian Bale yg berlakon sbg Jack dlm Titanic, mesti tiap2 hari aku tgk, hehe… (fyi, sampai now aku masih lum tgk Titanic lagi)

Me gives : ****/*****.
***** for Bale's breakthrough performance.

Oh yeah, the talking Pat Bateman figure (costs approx US$42) delivers some of the film's (in)famous lines..

"Gotta return some video tapes."
"Picked them up from the printers yesterday...that's bone, and the lettering is something called cylian braille."
"Look at that subtle, off-white coloring....the tasteful thickness of it.... oh my God, it even has a watermark..."
"Sabrina, don't just stare at it, eat it."
"You like Huey Lewis and the News?"
"Did you know that Ted Bundy's first dog ,a collie, was named Lassie?! Ha Ha! Have you heard this?"
"Hi this is Paul, been called away to London for a few days. Meredith, I'll call you when I get back. Hasta la vista baby."
"Listen, you'll have to excuse me....I have a lunch meeting with Cliff Huxtable at Four Seasons in 20 minutes."
"And uh,Paul Allen......I killed Paul Allen with an axe in the face.....his body is dissolving in a bathtub in hells Kitchen"
"Tonight I,uh hahahah......just had to kill a lot of people!"

Killer!
Labels: Films