Cannot Tahan...Must Watch...
The New World (2006)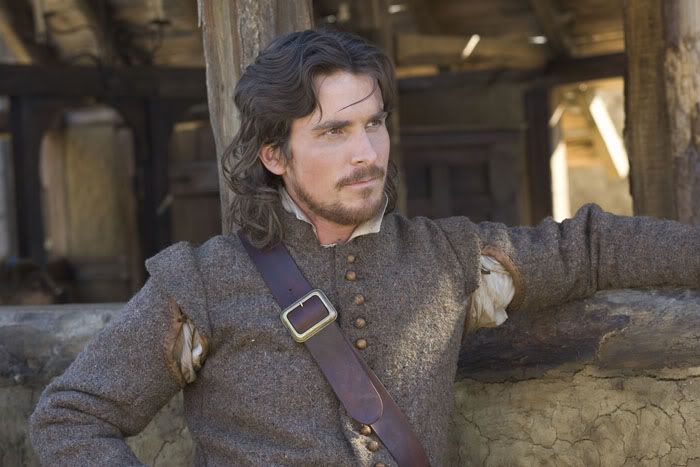 Apasal aku tak nampak pun Christian Bale? Adakah dia menyorok di balik lalang yg sama lebat dgn facial hair Colin Farrell? Apa pun, I would definitely watch it for Bale. Walaupun cuma tinggal kulit dan tulang jek mcm Trevor Reznik. (dia buat lagi daaa… utk filem Rescue Dawn).* geleng kepala 18 kali *.
Brokeback Mountain (2005)
Ada kuda, kambing bebiri, gunung, jeep, sungai, batu.Tapi takde Jake and Heath making out. Sucks.Oh ya, aku dah ada DVD BBM, tapi masih belum sempat nonton lagi.
BloodRayne (2006)
Filem arahan Uwe Boll (nama manjanya Kubrick of Krap), sering menampilkan nama2 yg agak terkenal, walaupun filem2 sering mendapat rating yg rendah. Judging from the trailer, aku rasa filem ni mcm one of the lost episode of Xena:Warrior Princess (idola aku suatu ketika dulu). Hampeh. Terlalu clichéd.
Castello (2005)
One advice utk pembikin trailer filem Melayu, lain kali, jgn le letak spoiler dalam trailer ! Notice the scene yg mana Sepet (lakonan Que Haidar) yg ditembak oleh Rosyam Nor, yg mana pada pendapat aku, kira menceritakan ending filem tersebut, dan bermakna, mungkin lepas ni filem ni tak boleh difranchais-kan seperti siri Mami Tanjung dan anak2nya. Unless ada villain baru yg lebih jahat kot. (Apsal la villain filem Melayu biasanya perogol? (see KL Menjerit 1, Embun) Adakah itu jek yg paling evil you can come out with ? What? LPF? Oooo patutlah…)
Dnevnoy Dozor (Day Watch) (2006)
Sekuel filem Night Watch, arahan Timur Bekmambetov, yg baru ditayang di Rusia. (Sekuel ketiga bertajuk Dusk Watch yg masih dalam peringkat pre-production). Seperti biasa, hero kita, Anton, lakonan Konstantin Khabensky, akan muncul semula, begitu juga Olga (yg kali lebih mengancam!!!) Filem kedua ni aku nampak lebih colorful berbanding yg pertama, tapi menjanjikan aksi2 vampire yg (aku harap) lebih best dari yg pertama. And yes, please, no more Nescafe…
X-Men 3 (2006)
*cough * Angel, * cough * with wings. Can't breath. Must watch * cough*. Haha, takyah tengok trailer pun aku pasti tonton di layar besar.
The Fountain (2006) (Teaser trailer)
Woah. Hugh Jackman dan Rachel Weisz dalam 3 persona yg berbeza, searching for immortality ?. Walaupun aku bukan fanboy Darren Aronofsky (mcm Nazim Masnawi), tapi filem ni pastinya masuk one of the films to watch in 2006.

Labels: Films