Can Also Be Titled - March of the Kambing Bebiri.
Akhirnya, malam tadi aku berjaya jugak nonton filem ni, sambil menghabiskan seminggu punya laundry. Ikmal dah tido (lepas aku bacakan buku How Did It Really Happen?, ttg Marco Polo, Jimmy Hoffa, dan ttg galaksi dsb, sampai dia keletihan dan tertido atas dada aku.)
Ngantuknye… ( I slept at 4 am last nite)

Brokeback Mountain (2005)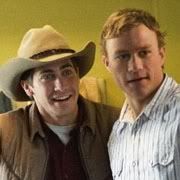 1. Sekarang aku tak berapa terkilan sbb Jake G tak dpt pencalonan utk Best Supporting Male Actor, sbb Heath lebih shine dalam filem ni. Beliau membawakan watak Ennis, si pendiam, dgn begitu baik (complete with the good ole southern accent), aku terlupa yg dia tu mamat Aussie (I have a thing for actors that can carry out their roles flawlessly).

2. Filem Ang Lee yg bertemakan gay kedua yg aku tonton (the first one is Wedding Banquet, lepas SPM, remember Coy?)

3. The scene stealer for me, other than the two leads, is Michelle Williams, yg membawakan watak Alma. Aku semacam dpt merasakan kesedihan/ frustration dia, bila Ennis semakin lama, semakin melupakan tanggungjawabnya sbg seorang ayah (refer babak Ennis dgn selambanya menghantar anak2 perempuan kpd Alma, yg pada masa tu tgh bekerja di pasaraya ).

4. Cassie, lakonan Linda Cardellini (last seen as Velma dalam Scooby Doo). I don't recall her from the short story by E Annie Proulx. Ada ke minah ni?

5. Mia Thermopolis has grown up!!! Aku suka babak ketika Lureen menceritakan ttg kematian Jack kpd Ennis melalui telefon…

6. … dan katanya, Jack mati kerana tayarnya meletup, sedangkan pd hakikatnya dia mati dibelasah sekumpulan gay bashers. Dan ketika ini, aku fikir Ennis pasti teringat semula memorinya ketika berusia 9 tahun, di mana bapanya make sure yg dia melihat mayat seorang lelaki gay yg mati dibelasah.

7. With all the baked beans, those guys must've farted a lot…

8. Paling sedih ialah kambing bebiri yg menjadi mangsa serigala ketika koboi2 tu tgh sibuk berasmaradana.

Now you'll have to excuse me. I've got some fishing to do.

Related posts : http://mamaikmal.blogspot.com/2005/12/why-why-why.html, serta reviu yg lebih mendalam dari Fadz's tontonfilem (linknya di sebelah sana tu).
Labels: Films