Bits n pieces, Part i
War of the Worlds (2005)

Arrrggghh…
Kenapa la aku asyik terbayangkan TC terlompat2 atas couch Oprah sepanjang masa menonton filem ni? Agaknya itulah salah satu sebab kenapa filem Spielberg ni termasuk dalam senarai filem2 flop buat tahun 2005. At least dalam buku aku la.

Wtf?
- the Ferriers got the ONLY working car in town ? How convenient…
- the hide and seek scene in the basement, that is soooooo Jurassic Park, Mr Spielberg!
- And yeah, you, Dakota Fanning, why do you remind me so much of Uptown Girls ?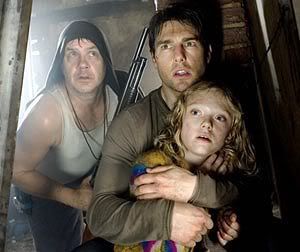 Thumbs up scenes :
- babak alien tripod mem'blender' manusia, dan darah yg terpercik ibarat kabus yg sejuk…
- haha, ketika Harlan Ogilvy, lakonan Tim Robbins, cuba menggali terowong dgn harapan dpt melarikan diri ke tempat lain, that is sooo Shawshank Redemption (watak Andy Dufresne juga dimainkan oleh Robbins).

Me gives : ***/*****


Tom Yum Goong (2005)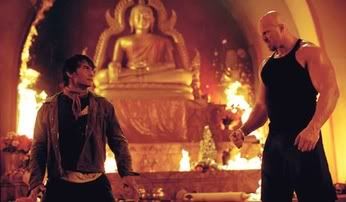 Filem ni, nak dikatakan sekuel kepada filem aksi hebat Ong Bak pun, tak jugak sbb jalan citernya agak lain. Tak puas hati gila aku nonton filem ni. Editingnya teruk sangat, seperti melompat2 dr satu scene ke satu scene, sampai aku pun jadi lost track ngan apa yg berlaku. Fight scenes-nya pun tak segempak Ong Bak, yg aku boleh tonton berulang2 kali. Yes, dan tak logic. Apa taknya, dah kena tikam/ slash pun hero kita (lakonan Tony Jaa) boleh lawan dgn penuh stamina mcm takde apa2 berlaku.

Best !
Awek dr filem Ong Bak ada membuat cameo dlm filem ni, memarahi boyfrennya yg membeli DVD cetak rompak. Hehe… terkena batang hidung sendiri. Dan sorang mamat Jacky Chan look-alike yg terlanggar hero kita di airport, juga seperti meluahkan hasrat sang pembikin filem utk membuat koloborasi utk filem akan dtg!

PS : Adik lelaki aku dgn selambanya berkata lepas habis tonton filem ni..'Ya, bagus org Thailand, sayangilah gajah, bunuhlah org2 Islam…'.

Me gives : *** / *****


Toolbox Murders (2003)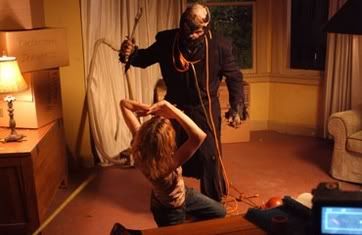 Filem ni remake filem yg asal (tahun 1978), arahan Tobe Hooper. Aku suka sbb pelakon utamanya ialah Angela Bettis, awek goth kegemaran aku, last seen sewing body parts in May. Seram, standard filem2 slasher yg aku suka. Cuma, filem ni mungkin ada sekuel, memandangkan di akhir filem, sang bayi keranda tidak dapat dikesan oleh polis2 yg 'efisien' tu.

Wtf?
The cops. Kalau ko tgk mesti sakit hati gila babi punya.

Best death scene : Tie between death by nail-gun (lekat kat siling, sweet!) dan Julia (digerudi di kepala). Oops, aku lupa, satu lagi, mamat yg tulang belakangnya di potong ngan playar. Gila.

Me gives : *** ½ /*****


Ghost World (2001)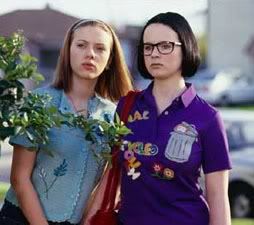 Filem arahan Terry Zwigoff ni berdasarkan novel grafik hasil karya Daniel Clowes. Thora Birch menaikkan berat badannya sebanyak 20 paun utk filem ni (lepas kejayaan filem American Beauty). Aku suka sarcasm budak2 ni, terutama sekali si uber-bitch, Enid (lakonan Thora). She is such a biiiiigggg loser, but really cute, though.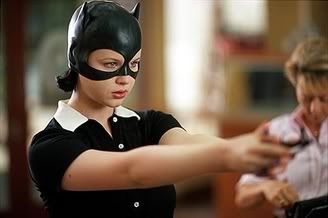 Fadz, ko pernah kata, kalaulah hidup aku difilemkan, aku boleh jadi watak Scarlett Johannson, but I beg to differ la brudder. (Okay, maybe ada skit2 part sensible dan realistiknya tuh). Aku rasa aku lebih mcm Seymour, lakonan Steve Buscemi. Naper yek ?

1. Aku sorang yg loner, tak reti bergaul ngan orang.
2. Aku takleh berhenti bercakap kalau ttg sesuatu perkara yg aku suka (read : films)
3. Aku suka kumpul benda.
4. Aku suka milkshake perisa vanilla.
5. Aku takleh relate to 99% of humanity.
6. I look good in bed…LOL juz kidding!!!

Babak best : Setiap kali Enid goes on screen. Ayat2 power nya, ditambah ngan muka deadpan, is priceless.

Btw, Steve Buscemi adalah salah sorang pelakon under-rated yg aku gemar, terutama dalam filem Reservoir Dogs. He's sooo rule as Mr Pink!

Aku bagi : *****/*****

Kredit photo: moviemantz.com (WotW), the moviebox.net (TYG), joblo.com (GW) dan filmfocus.com utk TM.
Labels: Films