Seksi - Subjek Yg Sungguh Subjektif
"Saya dah 20 tahun tak gunakan deodoran dan saya lebih suka tidur berbogel."

Itulah pengakuan lelaki (bernyawa) terseksi 2005, pilihan majalah People.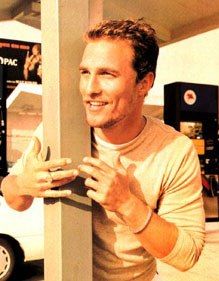 Saya paling seksi? Eee, mcm tak percaya !



14 lelaki terseksi 2005 pilihan majalah People (dan rating aku, per lima bintang):

1. Matt Mc (A Time To Kill) ***
2. Patrick Dempsey (Dr Derek Shepherd dalam Grey's Anatomy) ***3/4
3. Terrence Howard (tuan director yg tak dapat membuat apa2 ketika polis jahat lakonan Matt Dillon meraba bininya dalam Crash). **
4. Viggo Mortensen (Aragorn) ****
5. Vince Vaughn (semua filem frat-pack. I hate u Jennifer Aniston !!!!!) ****
6. Nick Lachey (hampeh, Mr Jessica Simpson) *
7. Heath Ledger (Pat dalam 10 Things I Hate About You) ****
8. Daniel Dae Kim (suami Kim Yun Jin yg garang dlm Lost) **
9. Keith Urban (Aussie rocker) **
10. Ian McShane (Kayu mati) ½*
11. Matt Damon (Loki dalam Dogma/ Jason Bourne) ****
12. Denis Leary (tak familiar ngan his works) *
13. Anderson Cooper (Hos The Mole, salah satu reality show terbest) *
14. * sob * Clive Owen ! *****

Demn. Aku sepatutnya termasuk dalam juri pemilihan.

Yg sepatutnya masuk, tapi tak masuk (pilihan juri tak bertauliah – aku le tu), dalam role favourite :

1. Jake Gyllenhaal (Donnie Darko - Weird is sexy)
2. Peter Sargaard (Kinsey (where he went full-frontal), Garden State, Shattered Glass)
3. Christian Bale (American Psycho-walaupun lum tgk lagi, Batman Begins, Equilibrium)
4. Gael Garcia Bernal (Amores Perros)
5. Cillian Murphy (Batman Begins, Red Eye)
6. Adam Levine (video This Love, She Will Be Loved, drool…)

ah well.