Mike Tanpa LP dan Bekas Abg Askar yg Kesejukan
Fort Minor - The Rising Tied
"The name comes from this dynamic I like;
'Fort' represents the strong side of what I do;
'Minor' represents the smaller and darker side."
Mike Shinoda

Mike Shinoda. Pic borrowed fr wikipedia.com

Linkin Park merupakan salah satu band2 terbaru yg aku gemar, terutama dua frontmennya iaitu Mike Shinoda dan Chester Bennington. Dua album pertama mereka yg aku ada – Hybrid Theory dan Meteora mmg power gila, dan mmg menjadi album staple aku suatu ketika dulu. Honestly, aku lebih gemarkan pure LP, tanpa perencah2 tambahan (remixes) dr bintang2 hip-hop seperti JayZ (dalam dua album remix- Reanimation dan LP/JayZ colloboration), maybe that's why aku stop LP'ing after Meteora (and Abah Ikmal pun tak brapa gemar obsesi aku terhadap LP, so aku cuma dgr di ofis jek). Yeah, LP rocks. Liriknya mmg power dan muziknya best ! Dgn vokal manja Chester dan rap macho dr Shinoda, ditambah dengan scratching dr Mr Hahn.. phew. They're awesome ! Sayangnya aku missed their concert kat KL dulu.

The Rising Tied merupakan album debut Fort Minor, projek solo Mike Shinoda. I dunno whether dia akan go solo forever atau temporary jek, but this album, aku boleh summarise-kan seperti album2 LP yg lain, cuma tanpa vokal power Chester. Dan instead of membuat aku depressed dan rasa tertekan seperti lagu2 dlm album2 LP (tapi best. Freaky.), lagu2nya memberi semangat utk menghadapi hidup. Yeah.

Lagu best : Remember the Name, Believe Me, Right Now. Very infectious.
Lagu LP faveret : Faint, Crawling, In The End, Papercut, hell, suma lagu dlm Hybrid Theory, Breaking The Habit (aku suka gila video ala manga-nya).

PS : Entah mengapa aku mmg tak gemar hip-hop, terutama si 50Cent tu. Tiap kali aku come across his name, aku akan terbayang watak Azean Irdawaty sebagai Aisah 50 sen (limapuluhsen, limapuluhsen) yg dirogol oleh Jalaluddin Hassan. Hehe. Sadis.



James Blunt – Back To Bedlam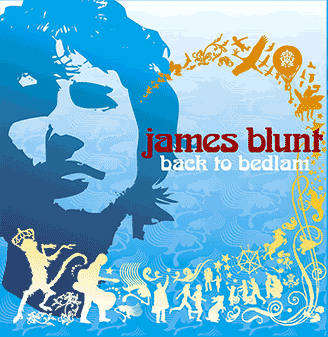 Bekas abang askar, James Blunt, mempunyai vokal yg best, yg aku boleh layan, sebaris ngan Damien Rice, John Mayer, Rufus Wainwright dan Antony & the Jonsons. Lagu2 berirama melankoli, dan seswai didengar ketika menyiapkan report2 budget yg menimbun2 serta melayan kerenah bos serta juruaudit2 luar yg kebanyakannya muka2 baru. (Being an an ex-external auditor myself, aku faham staff turnover yg tinggi di firma2 audit Malaysia nih.)

Lagu2 best : You're Beautiful (no thanks to 8tv, sekarang setiap kali aku dgr lagu ni, aku akan terdengar ayat – I'm Voluptuous. Where? Demn. But hell, I love the video. Sgt cute !), Wiseman, High.

Labels: Music