Filem Yg Membuat Kau Seperti Mahu Minum Nescafe
Night Watch (2004)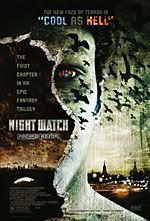 Memang celaka. DVD lanun yg baru aku beli dua hari lepas bagaikan terkena sumpahan sang perawan Byzantium. Secara tiba-tiba subtitle-nya hilang. Betul2 selepas Olga si burung hantu bertukar menjadi manusia. Aku yg tengah asyik melayan filem tu secara tetiba seperti hilang arah tujuan. Kepalanya dah ada, badan baru nak bentuk dan tiba part kaki…semuanya hilang. Arrggghh ! Tension gila! Dah le citer fiction, bahasa dan tulisan Rusia, jalan citernya agak komplikated, aduh.. susah jugak aku nak fahamkan endingnya. Tapi takpe, hari ni aku refer balik di tempat2 biasa, dan nanti maybe aku nak tonton sekali lagi.

In a nutshell : Among normal humans live the "Others" possessing various supernatural powers. They are divided up into the forces of light and the forces of the dark, who signed a truce several centuries ago to end a devastating battle. Ever since, the forces of light govern the day while the night belongs to their dark opponents. In modern day Moscow the dark Others actually roam the night as vampires while a "Night Watch" of light forces, among them Anton, the movie's protagonist, try to control them and limit their outrage.


(Dari imdb.com)



Phew. Aku rasa this movie is the next best thing to come out from Russia after tAtU. Walaupun dikritik hebat di negara sendiri (ala, Puteri Gunung Ledang dan Sepet pun camtu jugak), filem ni patut ditonton oleh penggemar2 genre ini. A cross between Underworld (dua puak yg bertelagah), Blade (vampires, what else) and with a bit of Matrix (Anton is The One ?). Tak sabar nak tunggu sekuelnya- Day Watch.

I like ! : Shape-shifters. Woah. Entah mengapa aku mmg sukakan benda ni sejak kecik lagi, lebih2 lagi werewolves. Ingat Manimal ? Siri tv 80-an (short-lived) lakonan Simon McCorkindale ? Otai gila, tapi itu yg selalu aku tunggu2 suatu ketika dulu. Also Sirius Black & Remus Lupin from the HP franchise. Dalam filem ni, kita ada Tiger dan Olga, yg mana aku bagi two-thumbs up utk transformasi mereka. Cool. Dan scene skru tercabut dr kapalterbang dan jatuh ke dalam lubang yg menghala ke rumah sang perawan. Excellent. Aku juga suka setting-nya yg dark dan burung2 yg menakutkan.

Gila irritating : Product placement. Aku dapat tau filem ni ditaja oleh Nescafe division of Russia, so expect the brand to pop up here and there. And the score, yeah, walaupun bertema rock, tapi aku rasa the music masa Anton lawan vampire bernama Andrey tu agak cheesy. Namun, lagu2 yg lain mmg best ! (walaupun aku tak faham, but hey, music knows no boundary, right ?).

Apa pun, aku bagi ***3/4 / *****.

Review lain dari Edd dan Fadz.
Labels: Films