Dah Mandi ?
10 Most Memorable shower/ bathroom scenes.
So far la.
Porn not included.

1. Harry Potter (Dan Radcliffe) dalam HP : GoF
Nuff said. No arguments. At least not here. Take it somewhere else.

2. Isabella (Ramona Rahman) dalam Fenomena
Makes me wanna go and have a shower myself. Rock kapak never felt so good.

3. Del Spooner (Will Smith) dalam I, Robot
Phew. Thank you Alex Proyas, for showing us the OTHER side of Mr Smith…

4. M Rajoli & Kartina Aziz dalam Rabun
Actually, aku hanya bayangkan scene sebenar drp movie still filem ni. Apa boleh aku kata, Kak Yasmin mmg sayangkan parents dia. And THEY themselves loved each other very much.

5. Sarah Polley dalam Dawn of the Dead (versi Zack Snyder)
Kinda sad, 'coz that's the last shower she had with her hubby b4 he got infected.

6. Sarah Michelle Geller dlm The Grudge
Takut gila bila kuar tangan dr kepala dia. Lepas tgk filem ni, aku takut gila nak masuk bilik/ bilik air.

7. The Bourne Identity
Dalam bilik mandi, sambil Jason Bourne (lakonan Matt Damon) memotong rambut Franka Potente. And the scene that follows. Sexy !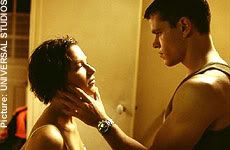 Jgn ckp kat org, nama betul aku ialah Will Hunting.

8. Charlie's Angels – Full Throttle
Tukang mandi buih – Drew Barrymore, Lucy Liu & Cameron D.
Wow, basuh keter ke, mandi buih sabun?

9. Spiderman
Ok, not exactly a shower scene, but when Mary Jane kissed Peter Parker upside down in the rain.. hmmm….

10. Y Tu Mama Tambien
Comparing manhood. Nakkal sungguh Gael Garcia & Diego Luna !

Best post-shower apperance
Clive Owen in Closer

Worst post-shower appearance
Viggo Mortensen in LOTR: Trilogy
I want my Aragorn dirty n scruffy !!!!

Worst shower scene. Ever !
Anything from Tinto Brass film.
* cough * Too much T & A. * cough * And dicks. * cough *
Labels: Films