One Man, USD1,100, 30 Days, One Goal
My Date With Drew (2004)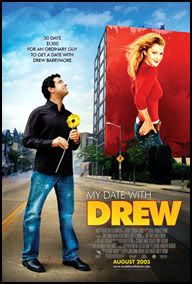 If you don't take risks, you'll have a wasted soul. - Drew Barrymore

Aku baru sempat menonton filem ni malam tadi (sampai around 3.30a.m), sambil2 melipat kain baju yg bertimbun tu (dan Ikmal pun dah lelap so he won't pester me with his Oompa Loompa dance moves). Aisey, got loads more to watch, so little time..(I recently bought some Tinto Brass & Kubrick films, Night Watch, Kontroll, Me, You & Everyone We Know, C.R.A.Z.Y, Amelie, Magnolia…hmm….one of the things yg aku takleh nak control – beli DVD. Mcm makcik masuk kedai emas yg ada jualan lelong.

Ok, in a nutshell: Brian Herzlinger seorang peminat Drew Barrymore sejak kecil lagi. Beliau memenangi USD1,100 dalam game show 'Taboo' dan menggunakan wang tersebut utk cuba keluar date dgn idolanya itu dalam masa 30 hari. Berjayakah dia?

Mama's dua sen : A feel good, inspiring date movie. Aku rasa aku tersenyum sepanjang masa menonton filem ni. Salah satunya mungkin sebab sang hero kita ni jenis loser i.e. no job, no girlfriend, siap mintak duit ngan mak lagi (he's my age), dan dia juga jenis yg gelabah (siap upah a Drew look-a-like utk test date!). Tapi dgn bantuan kengkawannya yg sempoi dan sporting, perjalanan Brian tidaklah sesusah yg disangka. Really an inspiration to the dreamer in all of us.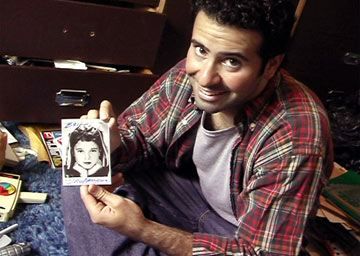 Siap join Drew fan club masa umur 10 tahun !

Best ! – Never underestimate the power of the Net. Kalaulah hero kita menggunakan internetworking, instead of the six degrees of separation approach, mungkin beliau akan dapat berjumpa Drew dgn lebih awal lagi. Dan aku suka tgk bilik salah sorang rakannya yg juga peminat fanatik Star Wars (Cool!). Dan kita dpt tgk sapa sebenarnya disebalik suara macho trailer2 filem. Kelakar gila !

Mama bagi : ****/*****
Websitenya - www.mydatewithdrew.com
Labels: Films