Blond Bloke is the New Bond !!!
The Bond Questionnaire…
1. How many Bond movies have you seen?
12. With very blurred recollection of each films, sbb aku cuma tgk gitu2 jek.
2. What is your favourite Bond film? Your least favourite ?
Dr. No. Least fave – couldn't remember la…

3. Who is your favourite 007 ? Your least favourite 007 ?
My all time fave would be Sean Connery. He's THE MAN ! Least favourite – Timothy Dalton and Pierce Brosnan. I don't like Pierce Brosnan in general, so I avoided watching his movies. Even when it featured a very young Daniel Radcliffe (The Tailor of Panama).

4. Do you have a favourite Bond girl? (If 'Yes' who?)
Honey Ryder. Emerging from the sea... * sizzle * And Wai Lin, as played by our own Datuk Michelle Yeoh.

5. Do you have a favourite villain ?
Jonathan Pryce. Lupa lak nama karakter dia. And Oddjob.
6. What is your favourite Bond spoof/ remake ?
A tie between the Austin Powers Trilogy and Undercover Brother. Not forgetting our very own Jefri Zain/ Nora Zain (no relations to Anuar & Ziana), and oso Mat Bond, from the Mat Sentul franchise.

7. Which actress would you like to see in the next bond film? Why?
Uma Thurman a.k.a Beatrix Kiddo herself. As the villain. Who gets to kick Bond in the balls without having to shag him first. And yeah, do him like you did Buck ('I'm here to f**k'). Cool…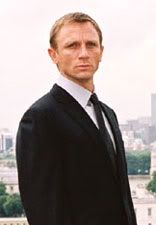 Blond, brunette, who cares ? As long as it's not Mike Myers or Mat Sentul…

8. Daniel Craig is the new (Blond) Bond. What do you think ?
*sob * I was rooting for Clive Owen !!! Well, aku tak familiar sgt ngan DC, since I haven't got the chance to watch Layer Cake yet. And yes, Jason Statham pun tak terpilih. Well, after the Transporter, he looked very much like a driver la.. Wait a minute, Clive Owen played a driver in the BMW series too. Ah well…


You suave f****r, you !! Nevermind…
Questionnaire from www.ajb007.co.uk with spices from moi.
Labels: Films