Tak Yah Beli Jam Kot...
Ok.
Aku rasa mcm tak perlu beli jam baru.
Sebab…
(Sila beli majalah Klik keluaran terbaru)
(covernya warna merah hati, dgn dua idola Korea yg aku tak ingat namanya)
Buka muka surat 96
Contest result Initial D
Hadiah Utama – Sebuah jam tangan G-Shock bernilai RM499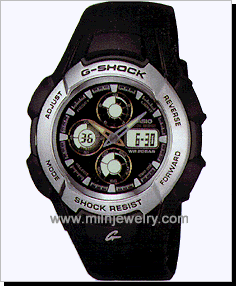 Woah ! (Bukan jam sebenar...)



Beserta hadiah sampingan bernilai RM100.
(Aku harapkan peluang bersarapan pagi ngan Edison Chen, makan tgh hari ngan Shawn Yue, dan buffet dinner ngan Jay Chou… but dream on la Zack…)
Cis, ingat makan jek kau nih…
Alhamdulillah.

Thanx a lot to the awesome Klik team at Karangkraf (keep up the good work !) and the guys at Audio One Entertainment (my second win from AOE – the first one is the grand prize for LOTR: ROTK contest kat Berita Minggu. You guys are awesome !! Thanks !)

Terima kasih daun keladi, kalau boleh, bagilah saya menang lagi…

Btw, Lin (my fellow contest-lover), aku rasa slogan Melayu aku lebih laku la dr slogan English…

PS : Klik isu yg ni best. Among others, ada citer pasal Land of the Dead, si gondol dr Felda Taib Andak, PLP, Born Into Brothels, dan giant poster of Hilary Duff).
Labels: Printed Materials