So You Wanna Be A Rock Star ?
Rock School (2005)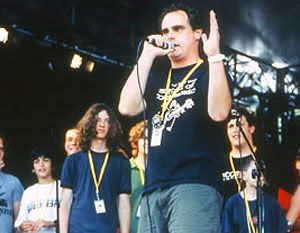 Teaching kids the basics: Power chords, head banging, and being a rock star.

In a nutshell : Sebuah documentari mengisahkan ttg real-life Paul Green's School of Rock Music di Philadelphia, dan anak2 muridnya dalam lingkungan umur 9 hingga 17 tahun.

Mama's dua sen : Gila. Opening movie-nya saja dah membuat aku terpegun (CJ, guitar prodigy berusia 12 tahun 'menggoreng' tune Black Magic Woman oleh Santana). Seriously, aku takkan serahkan anak aku pada Paul Green ni. He's one egomaniacal musician-turned-music-teacher dan cara beliau mengajar anak2 muridnya..hmmm aku sendiri takut ! He uses anger to motivate his students, and spews out abusive words like nobody's business. Located at his cramped studio (aku suka hiasan dindingnya), seramai lebih kurang 120 murid berusia 9 –17 tahun mengikuti kelas muziknya (lepas waktu sekolah), di mana mereka akan diajar ttg Led Zep, AC/DC/, Santana dan Frank Zappa.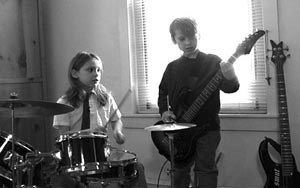 Si kembar cilik yg rock !



Filem arahan Don Argott ni banyak memfokus kepada kaedah pengajaran Paul Green, dan beberapa anak2 muridnya yg agak pelik. Contohnya, Will O'Connor. Cara dia menceritakan kisah hidupnya juga membuatkan aku mengerutkan dahi (dia dilahirkan secara caesarian kerana pelvis ibunya terlalu kecil dan lehernya terjerut dengan tali pusat; dia juga pernah beberapa kali cuba membunuh diri). Aku juga suka tengok si kembar Tucker yg cute tu. Dan emaknya yg sempoi gila (Soccer mom without the soccer, kata Paul Green). Btw, bagi yg dah tgk filem ni, mereka tu, dua2 lelaki, okay. Dan kehidupan 'lain' Paul Green (he's a devoted father of a son, lebih kurang baya anak aku- haha, kelakar gila tgk dia ajar anaknya sebut 'Jethro Tull' dan bermain gitar kapuk !).

Fave scenes : Everytime they went on stage. And that trip to the annual Zappanalle Festival in Germany, during which the kids perform the uber-complicated "Inca Roads" in concert with veteran Zappa sideman Napoleon Murphy Brock, who incites the crowd into bows of unworthiness. And any scenes with the Tucker twins.

Mama bagi : ****/*****. We're not worthy !

Official website : http://www.rockschoolthemovie.com/

The School of Rock (2003)
Rock isn't about getting an A. Sex Pistols never won anything.
Freddy Jones





In a nutshell : Down and out rock star Dewey Finn (Black) gets fired from his band, and he faces a mountain of debts and depression. Using the identity of his flatmate, he takes a job as a 5th grade substitute teacher at an uptight private school where his attitude and hijinx have a powerful effect on his students. He also meets Zack, a 10-year-old guitar prodigy, who could help Dewey win a "battle of the bands" competition, which would solve his financial problems and put him back in the spotlight.(From imdb dot com)

Mama's dua sen : Semalam kali ketiga aku tonton filem arahan Richard Linklater ni. Kali ni di DVD. Dan aku tak pernah jemu melihat telatah gila Jack Black dan anak2 buahnya dalam perjalanan mereka menyertai Battle of the Bands tu. Pure talent, I'd say, memandangkan bebudak ni mmg bukan pelakon professional (eg, in real life Zack Mooneyham si prodigy guitarist, mula bermain gitar pada umur 3 tahun dan kini mempunyai band sendiri).

Babak paling aku suka : Mr S giving homework to his students. Dan scene masa guitarist No Vacancy cuba ngorat Ms Mullins tu.. haha kat atas stage pun lagi kelakar gila mamat tu…

Mama bagi **** ½ / *****. Rock on !

Well, apa pun, aku takkan encourage sangat anak aku utk menceburi bidang ni. Kalau setakat suka2 takpe. As a hobby. Aku sendiri akan ajar pasal Led Zep, Deep Purple, Nirvana, Pearl Jam, etc. Kalau nak gitar ke, amp ke, aku akan belikan but not as a way of life. Not as a rocker in the entertainment world. I mean y'know rockers la. Life diorang camne. Sapa nak doakan aku kalau aku dah mati nanti…

Labels: Films