Oh, Macam Tu Rupanya Org Buat Rubber Kat Pensel Kayu 2B...
Eraserhead (1977)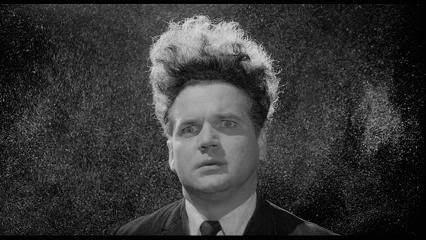 Henry Di Alam Fantasi ?

In a nutshell : Is it a nightmare or an actual view of a post-apocalyptic world? Set in an industrial town in which giant machines are constantly working, spewing smoke, and making noise that is inescapable, Henry Spencer lives in a building that, like all the others, appears to be abandoned. The lights flicker on and off, he has bowls of water in his dresser drawers, and for his only diversion he watches and listens to the Lady in the Radiator sing about finding happiness in heaven. Henry has a girlfriend, Mary X, who has frequent spastic fits. Mary gives birth to Henry's child, a frightening looking mutant, which leads to the injection of all sorts of sexual imagery into the depressive and chaotic mix. (From imdb.com)

Mama's dua sen : Kali pertama aku nonton filem ni, aku cubit lengan kiri. Sakit. Yup, aku bukan bermimpi. Namun, filem Lynch kedua aku ni (yg pertama aku tonton ialah Dune), really gives me the creep. Dibuat ala2 seramimpi, kita rasa seperti ada di alam tersebut. Bersama2 Henry, keluarga Mary X yg pelik (lepas ni aku fikir dua kali sebelum makan ayam golek as a whole), dan bayi (?) tu. Arggh, kalau korang lemah semangat atau tgh mengandung, aku tak syorkan filem ni. Sampai sekarang aku terbayang2 bayi yg tak serupa bayi tu. Terutama masa "Oh my, you ARE sick". Terperanjat beruk aku sekejap…

A cult favourite, filem ni dibuat dalam tempoh 5 tahun, dan skripnya hanya 20 muka surat. Dan sampai sekarang, Mr Lynch refused to say anything on the movie. Suasana yg creepy, dgn sound yg haunting (mcm déjà vu la, aku pernah dgr kat Dune), and equally creepy characters. Selain bayi pelik tu, satu lagi watak yg menakutkan bagi aku ialah wanita penghibur Henry dalam radiator tu. Dan sperma gergasi. Dan ketika kepala Henry yg telah putus diproses menjadi pemadam getah di atas pensel kayu 2B yg dah lama aku tak pakai tu. Arrgghhh, seramnyer !!!! Nasib baik aku guna mechanical pencil !!!

Mama bagi : *****/*****. An original masterpiece in horror ! Nak lagi, Encik Lynch !!!!
Labels: Films