Heart, Be Still... For The Love of Books Part 2
Haha, kalau nak tgk aku gila mcm mak datin masuk kedai emas, just send me to Pay Less Book stores. My favourite is the one in Ampang Point, which is also their biggest outlet so far. Wow, I dunno about you guys, but THIS is book heaven for me, walaupun buku2 yg dijual adalah buku second hand. Kalah Kino, MPH atau Borders ! (I mean, if I wanna browse thru' the latest best sellers, aku akan pergi ke kedai2 buku ni, tapi kalau aku nak BELI buku sebagai koleksi library aku, aku akan beli di PLB). Last weekend, aku beli 10 TPB's (trade paper- backs), seven of 'em dah jadi movie. Antaranya Michael Cunningham's The Hours, Laura Zigman's Animal Husbandry, Thomas Kenneally's Schindler's List, Miss Smilla's Feeling for Snow, The Lone Ranger & Tonto Fist Fight in Heaven (novel by a Native American, Sherman Alexie,yg telah difilemkan sebagai Smoke Signals), Mary Reilly, Like Water For Chocolate, dan banyak lagi. Dan boleh teka berapa aku bayar untuk kesemua buku2 ni ? RM24 !!!!!!! Kenapa ? Tak percaya ke?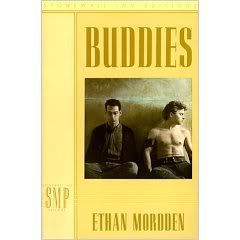 I got this one for a mere RM2.40 !!
Actually, kalau rajin browse (the owner of fingers of steel mcm aku, cuma guna jari jek – hey ! utk pilih buku atau DVD la…), kau boleh dpt National/ International Bestsellers, Booker /Pulitzer Prize winner, dan berbagai2 lagi. And I managed to get Buddies, a novel by Ethan Mordden (said to be one of the most prolific gay writers around), hehe, boleh la compare ngan NZ's works dalam Daging Salai tu…;-)

And yes, Ikmal pun suka ke sini. Suka berlari2 along the aisles, sampai aku nak pilih buku pun susah… And yes, books for kids kat sini….fuh.. rambang mata nak pilih. All at a very affordable prices!

For more info : http://www.paylessbooks.com.my/index.asp
Labels: Printed Materials