Vitruvian Man Tak Pernah Se'Cool' Ini
The word is out.

Novel thriller tersohor Dan Brown tu dah difilemkan, dengan sentuhan Ron Howard sebagai tuan direktornya.

And by now, mungkin semua org dah tau yg Tom Hanks diberi kepercayaan utk memegang watak utamanya iaitu Robert Langdon, sang professor dari Harvard yg sgt mahir dalam bidang kriptologi dan symbolism. Mmg salah satu filem yg ditunggu2. Aku berkesempatan berdiskusi ngan sorang member lama, si Faiz (juga fanatik Da Vinci Code), dan kat sini, most of our dua sen on the upcoming movie.



Robert Langdon (Tom Hanks)

Tom Hanks mmg pilihan terbaik utk watak Robert Langdon. Sebelum ni, ada ura2 yg Russell Crowe akan dipilih utk watak ni. But then, RC? Too macho. Langdon, pada kami, mestilah seorang yg agak kelam kabut, ada touch of innocence (tapi tak la selurus Forrest Gump), but at the same time, seorang yg brilliant otaknya. (I want his brain!!!!)

Mama's dua sen : Hank's da man !



Silas si albino (Paul Bettany)

Wo. Pure white, pure evil. Silas si albino merupakan salah satu watak villain dlm DVCC. Aku tak sure tahap evil-nya sbb baru habis separuh DVCC (di mana aku akan update this post sekali lagi once I've finished the book). Aku tak brapa familiar ngan lakonan PB, but judging from the book, he's gonna be one bada$$ of a sexy (self-punishing ?), violent man.

Mama's dua sen : Mungkin Crispin Glover (Willard) boleh kot. He's also dark, brooding and scary in the sense that you wanna be scared by HIM and HIM alone, gosh, dark fantasy aku…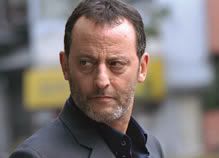 Bezu Fache (Leon himself- Jean Reno)

That irritating cop, Fache, pada kami, mestilah macho, garang and will stop at nothing to get his man. Just like Tommy Lee Jones dalam The Fugitive. TLJ ? Nay. Too American. Other choices would be Oded Fehr or Arnold Vosloo (The Mummy). Muka fierce, tapi eksotik.

Mama's dua sen : Aku dah tgk a few of Reno's works (Wasabi, Ronin, Godzilla, Leon), dan terpaksa akur, he's the best choice for the part of Fache.



Sophie Neveu (Audrey 'Amelie' Tautou)

Sophie, cucu Jacques Sauniere yg dibunuh pada awal cerita, juga seorang kriptologis yg handal. (Wow, lepas ni aku mesti brush up on my sudoku skills). Sophie seorang French lady, maybe dat's why they cast the lovable Amelie for this character. Other choices would be – Catherine Zeta Jones (aisey, dah jadi cam The Terminal pulak…) or Franka Potente (Bourne Identity).

Mama's dua sen : Well, apa pun, aku tunggu kedatangan filem ni !!!!

I just hope that this movie akan mengekalkan elemen2 kriptik-nya, dan jgn terlalu banyak aksi ala Michael Bay atau Jerry Bruckheimer. Well, you gotta trust Ron Howard on this (nak tergelak aku bila si Faiz bagitau yg dia dok teringatkan RH dalam Happy Days! Otai!)

What about Aringarosa dan lain2. Tunggu post terbaru nanti !!!

Labels: Films, Printed Materials