(There's No) Upside of Anger
Aku – mmg short-tempered. Dan kurang sabar.
Dari dulu lagi.
Korang tgk The Apprentice? Si Chris tu?
Yeah. I'm just like him, only, I don't chew tobacco.
Don't ask me why, coz if you are standing in my (battered) shoes for a day, and walk a mile in it, you'll know why. (Aku taknak citer kat sini) And aku tau, it's taking a toll on my family, especially Ikmal, yg selalu jadi mangsa tarik telinga atau tengking aku.

Last Friday night, Abah Ikmal took us to his office (right in the middle of the so-called red light district of KL), coz he needed to take home some of his unfinished assignments. Yeah, as usual, aku ngan Ikmal akan lepak2 sambil bermain apa yg patut, y'know, like, pushing him around in the office trolley, or simply drawing doodles on recycled papers. But that night, I was preoccupied on something else, that I forgot about him for a moment. Aku tgk kiri kanan, eh, mana anak aku? Berlari2 aku gi cari dia kat all the rooms.

And there he was.
One leg on a swivel chair. One leg on an office printer on a table. Just beside the big office window on this fifth floor. And his head, curly hair and all, nearly (I mean, nearly) out of the window! Aku tak tau camne dia boleh bukak tingkap office yg berat tu. Berderau darah aku! Aku jerit kat dia, tapi dia cool jek dan kata kat aku – Mama, keta!

I took him down and since then, I never take my eyes off him. Walaupun itu bermakna aku terpaksa marathon mengejar dia ke sana ke mari. Yeah, he's at that stage di mana kau terpaksa tahan sabar dgn kerenahnya yg kekdg meletakkan aku at wit's end. Yup, aku akan belajar bersabar, dan try to control my temper. Coz temper, for me, is a valuable thing. Just don't lose it. Especially on my loved ones.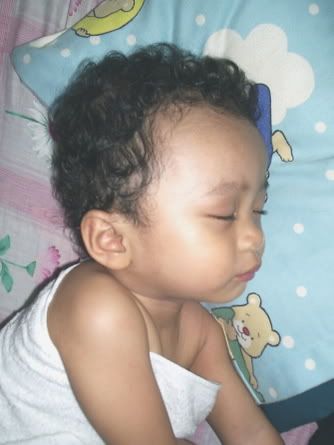 (Aktif sgt, sampai tertidur bila time nak mandi petang!)

Teringat aku kat satu e-mail ni (Thanks Ali!)

BE PATIENT !

This is a true story, which happened in the States. A man came out of his home to admire his new truck. To his puzzlement, his three-year-old son was happily hammering dents into the shiny paint of the truck. The man ran to his son, knocked him away, and hammered the little boy's hands into pulp as punishment. When the father calmed down, he rushed his son to the hospital. Although the doctor tried desperately to save the crushed bones, he finally had to amputate the fingers from both the boy's hands. When the boy woke up from the surgery & saw his bandaged stubs, he innocently said, "Daddy, I'm sorry about your truck." Then he asked, "but, when are my fingers going to grow back?" The father went home & committed suicide.

Think about this story the next time someone steps on your feet or u wish to take revenge. Think first before u lose your patience with someone u love. Trucks can be repaired. Broken bones & hurt feelings often can't. Too often we fail to recognize the difference between the person and the performance. We, forget that forgiveness is greater than revenge. People make mistakes. We are allowed to make mistakes. But the actions we take while in a rage will haunt us forever.

Labels: Ikmal, Motherhood, Renungan