Oi ! Rockin' Down Under !
Garage Days (2002)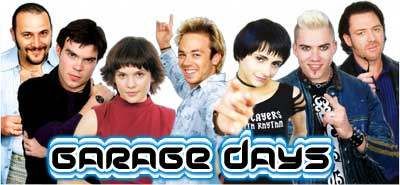 In a nutshell :- A coming-of-age comedy about a young Sydney band trying to get a foothold in the competitive world of rock n' roll. After the band's first gig is a colossal failure, the lead singer takes it upon himself to go out and pursue the most successful rock manager in the country. Meanwhile the other members of the band continue to deal with the kind of every day life issues that can ultimately tear a band apart. It may be the dawn of a new millennium but it's still a long way to the top if you want to rock n' roll.

Mama's dua sen : Haha, siapa sangka pengarah sci-fi kegemaran aku, Alex Proyas (The Crow, Dark City, I, Robot) boleh come up dgn filem muzika komedi camni. Totally 180 darjah different genre. Tapi, aku tak heran jugak coz AP ni, mmg terkenal sebagai pengarah muzik video sebelum terkenal sebagai pengarah filem. Mmg menarik, walaupun diselitkan dgn adegan2 CGI yg kelakar (contohnya, babak Fun With Drugs dan baby cantaloupe tu). The band ? Biasa2 jek., tak gempak mana pun, cuma kumpulan rock yg tipikal, dgn Freddy, frontmannya yg bercita2 tinggi, aweknya Tanya, Lucy (singkatan bagi Lucifer), si drummer punk yg ntahapahapantah dan Joe, lead guitarist yg ada masalah komitmen ngan aweknya yg mengandung. Haha, saat paling best? Endingnya! Amat sesuai sekali ngan tagline filem nih (aku takkan reveal kat sini !). Dan juga twist yg betul2 aku tak sangka, involving awek Goth Joe yg seksi tuh…

MamaIkmal's rating : ***/*****

Romper Stomper (1992)


Hando, Gabe n Davey

In a nutshell :- Nazi skinheads in Melbourne take out their anger on local Vietnamese, who are seen as threatening racial purity. Finally the Vietnamese have had enough and confront the skinheads in an all-out confrontation, sending the skinheads running. A woman who is prone to epileptic seizures joins the skins' merry band, and helps them on their run from justice, but is her affliction also a sign of impurity ?

Mama's dua sen : Wo. Aku tonton filem nih dua tiga tahun lepas on VCD (Oi, Moike, sorry mate, aku buat harta VCD kau nih). Masa tu, biasa la… demam Russell Crowe. One of his first films dan boleh aku katakan one of his best. RC memegang watak Hando, berkawan baik ngan sorang lagi skinhead, Davey (pelakon yg tak ternama, in fact, he committed suicide, even before this movie was released). Citer ni, bayangkan A Clockwork Orange meets American History X. And peppered with punk tunes (Oi Oi Oi). Very violent dan sgt berbau perkauman. Pada aku, scene yg agak disturbing is any scene involving the underaged skinhead (Bugsy agaknya nama budak tuh). Gila!

MamaIkmal's rating : ****/*****. Awesome performance by RC.
Labels: Films