For The Love Of Books
Books are the quietest and most constant of friends, they are the most accessible and wisest of counselors and the most patient of teachers.

Charles W Eliot (1834-1926) in The Happy Life

I love books.

Hobi aku sejak kecil lagi ialah membaca. In fact, sampai sekarang pun aku suka sangat berkunjung ke kedai buku, lebih drp ke butik pakaian atau kedai barang kemas. Buku2, pada aku, ialah sahabat paling setia. Sahabat yg tak pernah mengadu bosan dan tak pernah mengecewakan kau. Sahabat yg boleh di bawa ke mana-mana, tanpa perlu di ajak atau dipujuk. Yes, buku sepatutnya menjadi teman setia setiap insan.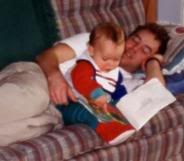 (Start 'em young !!!)

This post ialah utk Rem, yg bertanyakan ttg tax advantage berkenaan pembelian buku di blog Fadz. Well, Rem, first of all, sori, aku tersalah term. Actually, kau boleh dapat tax deduction (bukannya rebate, ok!) utk sebarang pembelian buku pada tahun tersebut.

Menurut Income Tax Act 1967, Section 46 (1) (i), kau boleh mendapat pelepasan bagi sebarang pembelian buku, majalah, jurnal atau penerbitan (selain drp suratkhabar dan bahan2 bacaan yg terlarang) utk individu, suami/ isteri atau anak, terhad kpd RM500 sahaja. So, you better keep all those receipts for tax purposes !

For more info on tax matters and whatnot, pls click here.


Labels: Printed Materials