Dah-ling, My Eyes Are Up *Here*
Hari tuh, adik aku ada bertanya.

"Long, duit hadiah tu, kau nak buat beli apa?"
Aku : Entah la aku pun tak tau lagi…

Hmmm… nampaknya hari ni, dah luak sikit duit hadiah tu. RM250 aku guna buat spek baru yg powernya dah bertambah dek gila blogging. Dan semalam…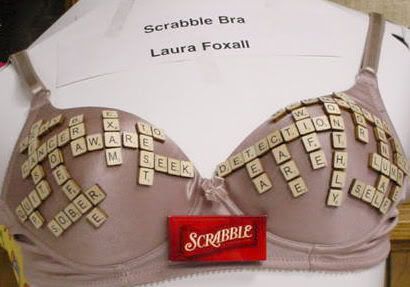 Kak, versi Sudoku punya takde ke? Bras for geeks.

Aku beli bra !!!
6 kesemuanya.
Dari satu jenama.
Ada kaler maroon, purple, dua shade of baby blue, light turquoise, dark pink and girly pink. All under-wired and two of 'em are push-ups. Haha. Vivid tak?
(Bukan, bukan, aku bukan obses mcm obsesnya Imelda Marcos atau Carrie Bradshaw pada kasut. Dan juga bukan meng-lucahkan diri di blog sendiri. Sekadar berkongsi…)
Cuma, pada aku, a good bra, is one that makes you feel comfortable.
Tak terlalu ketat, tak terlalu longgar.
One that gives you an extra lift (pun intended) when you feel down or moody…

Untuk adik2 yg baru nak belajar, atau kakak2 yg nak tips on how to buy a good bra, dan abg2 yg teringin nak belikan insan tersayang hadiah istimewa, boleh la ke
sini
,
sini
, dan
sini
, untuk tips2 yg berguna !
Labels: Personal