Tentang Setiausaha (dan Bos-nya) Yang Terlampau
"In one way or another I've always suffered.
I didn't know why exactly.
But I do know that I'm not so scared of suffering now.
I feel more than I've ever felt and I've found someone to feel with.
To play with.
To love in a way that feels right for me.
I hope he knows that I can see that he suffers too.
And that I want to love him."
Lee Halloway

Secretary (2002) (Rated : R)
Disclaimer : Aku bukan pervert atau psycho atau pro-gay atau menyokong benda2 BDSM ni. Just my dua sen's worth, so spend it wisely…

Sebenarnya, aku susah sikit nak digest filem2 rom-com ni, so korang takkan jumpa aku beratur utk membeli tiket wayang atau DVD untuk filem2 segenre Titanic, Pretty Women atau yg sewaktu dengannya. Susah juga nak mencari on-screen couples yg aku benar2 suka (dan selesa), macam Clarence/ Alabama (True Romance), Mickey/Mallory Knox (Natural Born Killer), Anakin/Obi Wan (SW series), Sam/Frodo (LOTR- aku suka Aragorn tapi aku tak suka gandingan Aragorn/Arwen; mungkin Faramir/Eowyn?), Joel/Clementine (Eternal Sunshine of the Spotless Mind), Loki/ Bartleby (Dogma) atau Hannibal Lecter/Clarice Starling (Silence of the Lambs dan Hannibal). So, okay, mungkin bukan watak2 dr filem2 romantik, tapi ada sesuatu pada pasangan tersebut yang membuatkan aku sorta 'shwing..!' (style Wayne's World). Me thinks that they exude the IT factor, making me craving for more (on-screen intimacy) than other couples in other purely romantic flicks.

Secretary (Filem terbaik Festival Filem Sundance 2002) mengisahkan tentang Lee Halloway (lakonan hebat Maggie Gyllenhaal) yang baru keluar dr institusi mental, mempunyai sejarah hitam, iaitu suka mencederakan diri sendiri (check out sewing kit-nya, lengkap dgn iodine!). Untuk menaikkan kembali self-esteem dan self worth-nya, beliau memohon utk bekerja sebagai seorang setiausaha dgn sebuah firma peguam milik E Edward Grey (James Spader) Tanpa pengetahuan Lee, En Grey sebenarnya ialah seorang lelaki yang mempunyai 'dominance complex' serta ada sedikit ciri2 sadistik. Haha, self abuser + sado-masochist = great black rom-com. Reaaaallly black rom-com…

Aku suka babak : Hehe, setengah jam terakhir, iaitu bagaimana En Grey 'menguji' Lee tentang cintanya. (3 hari tiga malam? Gila! You gotta see it to believe it!). Juga babak 'typo cacing' tu…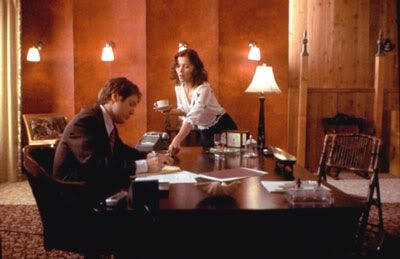 (Edward Grey : We can't do this everyday. Lee : Why not?)

Pretty disturbing for our LPF-loving audiences, so you can forget about seeing it on the big screen. Wonderful film with brilliant casts. Aku bagi 9/10. ( 6 points sbb bagi jantung aku laju, walaupun bukan dalam genre horror cam TCM atau Wrong Turn).

Labels: Films