New Mag On Da Block
Lunch hour tadi, aku ke kedai majalah yg biasa aku kunjungi (kat depan Giant Sg. Wang). Hehe, free reading, sambil2 menjamu mata kat majalah2 overseas yg aku minat, tapi tak berapa mampu nak beli (Empire, contohnya, aku akan tunggu sampai masuk bargain bin, baru aku beli). Covernya Abg Kelawar kita. Sealed. Takleh tgk contents-nya. Frust gila. FHM baru pun dah kuar (celaka betul, as usual sealed together ngan 100 Sexiest Women 2005), nanti la, dpt gaji aku beli.

Lain2 mag, First magazine, Cinema Online, dua2 pun aku browse utk tgk gambar jek (wah lau eh, First magazine ada free postcards Initial D yg cun!). Galaxie, hmm, BSB on da cover, sooo 6 years ago. Don't get me wrong. Galaxie merupakan salah satu majalah favorit aku sejak tahun 1993 lagi. (Aku ingat lagi isu yg pertama sekali aku beli covernya River Phoenix, dan harganya masih lagi RM1.50). Sekarang dah naik RM3 (to compensate for better quality paper). Used to buy every friggin' issue but now, to tell u da truth, aku akan belek2 dulu, dan kalau terjumpa apa2 yg menarik, baru aku beli. Rasa cam tak berbaloi sbb banyak sgt iklan ringtone dan wallpaper.

Anyway, mata aku terpaku jap kat satu majalah baru ni. Keluaran Karangkraf. KLIK namanya. Isu nombor 4 – untuk 15 Julai 2005. Amboi, cepatnya keluar ! Harganya pun masih murah lagi (mungkin untuk tempoh promosi – RM2.50, instead of the usual RM3.90). Tengok covernya pun dah menarik (Abg Bale kita ngan rambut crop-top). THAT alone is a reason to get it. Setelah belek2 skit aku pun belilah. (Haha, dpt jumbo poster free – Batman Begins, boleh la aku tampal kat kubikel aku, letak kat bawah poster SW:ROTS).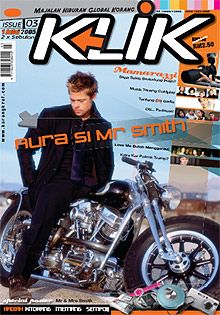 (Yg ni isu lepas, aku tak dpt lagi gambar isu ke-4 ni
)

Mmg menarik! Sarat ngan artikel dan gambar2 movies baru dan lama. Isu ni ada BB, HHGG, filem2 perang terbest, Black Eyed Peas, SOAD, Ahli Fiqr, Rob Thomas, dan mcm2 lagi. Pasal artis2 lain pun ada, tapi aku maleh nak baca. Peraduan pun banyak (isu ni ada 9!). Kertas yg berkualiti (tak hitam jari) dan tak banyak iklan (lagi best!).

Kudos for the KLIK team. Keep up da good work!
Aku bagi 8.5/10.

P/S : Sometimes I feel that I'm too old for these kinda stuff… ah but what the heck!
Labels: Printed Materials