Mancis Yang Patut Pulang Ke Kotaknya
Teruja dengan lagu catchy terbarunya, Lonely No More, aku terus mendapatkan album solo Rob Thomas – Something To Be. Harapan aku ialah Rob dapat mengulang kembali kegemilangannya ketika membuat koloborasi dgn Santana utk album Supernatural dulu.

RT merupakan salah seorang vokalis yg aku sgt2 gemar, jadi aku berpendapat, mungkin tanpa mancis2 yg lain, beliau mungkin boleh popular sebagai artis solo. Sayangnya, selain LNM, aku tak jumpa lagu2 lain yang boleh memikat telinga ni, walaupun setelah 2-3 kali mengulang dengar. Ah, aku simpan Something To Be, dan pasang balik 'more than you think you are'. At least ada lagu favorit aku – Unwell. ('Aku bukan gila, aku cuma tak berapa sihat..).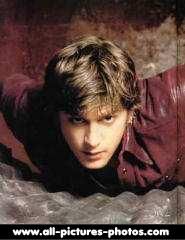 (Rob dengan gaya favourite aku)


Satu lagi yang aku bengang, ialah imej terbarunya, yang ala-ala gay boy gitu. OMG! What's wrong with that old hair? That old image yg aku suka tu? Mengeluh panjang aku tengok sleeve album tu. Whoever your new stylist is Rob, I wanna kill him (or her!).

2 sen on matchbox 20 :-
Favourite MB20 songs – Bent, Push, Unwell

Lain2 vokalis seksi bersuara seksi kegemaran aku selain RT : Adam Levine (Maroon 5, ditambah dgn video klip yg juga seksi…), Scott Stapp (Lifehouse – suara mengancam walaupun lagu2-nya ada yg kurang menyengat. Aku suka Sick Cycle Carousel), Chris Cornell (ex-frontman SoundGarden, sekarang ngan Audioslave, aku lebih suka lagu2 lama beliau – Fell On Black Days, Black Hole Sun) and also Eddie Vedder of Pearl Jam (evergreen favourite – Go, Hail Hail, Once, rearviewmirror..Black.., Jeremy.. ah mana dia CD aku tu…).
Labels: Music