Kisah Lara Lima Dara
Pertama sekali, ini bukan pos mengenai the Spice Girls.

Terus terang aku katakan, aku tak pernah rasa sebegini depressed dan down selepas menonton satu-satu filem atau membaca sesebuah buku. Namun, The Virgin Suicides, karya sulung Jeffrey Eugenides ini membuatkan aku temenung seketika. Bagaimana agaknya jika aku dikurniakan dengan anak perempuan, instead of Ikmal? Bagaimana jika Allah kurniakan aku 5 orang anak gadis, seorang setiap tahun? Mampukan aku menjaga, mendidik mereka menjadi wanita-wanita yang berjaya? Mungkin ada betulnya pepatah Melayu yang mengatakan – menjaga lembu sekandang lebih senang daripada menjaga anak dara seorang.

Buku ini telah difilemkan pada tahun 1999, hasil tulisan dan arahan sulung Sofia Coppola. Mengisahkan tentang kehidupan 4 anak dara En. Ronald Lisbon (seorang guru sekolah) iaitu Therese (17 tahun), Mary (16), Bonnie (15) dan Lux (14), setelah adik bongsu mereka, Cecilia (13), membunuh diri. Diceritakan oleh suara 'si muka ngantuk' Giovanni Ribisi,ia mengimbau kembali peristiwa 25 tahun lalu, daripada perspektif sekumpulan remaja lelaki (yang kini telah dewasa) yang tinggal berhampiran rumah mereka.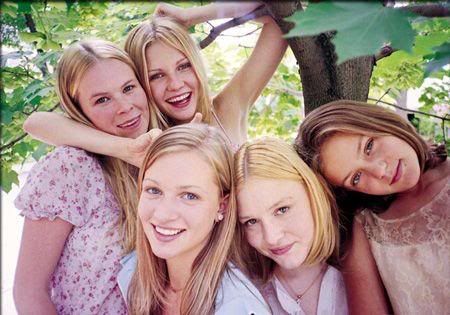 (Saat-saat indah ketika bersama)

Mama Ikmal suka babak : Riak wajah En Lisbon ketika menemani anak-anak gadisnya ke majlis tari menari. Sebagai seorang suami, beliau agak terikat dengan isterinya yang domineering dan konservatif (lakonan berkesan Kathleen Turner) tetapi sebagai bapa, beliau juga mahukan anak-anak daranya menikmati hidup sebagai remaja (Amerika) yang normal. Juga babak di mana Puan Lisbon membakar satu demi satu album-album rock (piring hitam) kepunyaan Lux (Kirsten Dunst), ah, sungguh menyayat hati melihat Lux meminta belas ibunya agar tidak membakar album-album kegemarannya.


(Hanya menunggu masa untuk kesudahan yang menyedihkan...)

Deep inside, aku seperti dapat membaca perasaan dan fikiran En. Lisbon. Beliau kelihatan begitu kepingin untuk mempunyai seorang anak lelaki yang boleh berkongsi minat dengannya. Ini amat ketara ketika parti Cecilia, di mana En Lisbon ingin berkongsi cerita ttg sesuatu dengan tetamu2 budak lelaki kengkawan anaknya (pasal kapal terbang agaknya), tapi ditinggalkan oleh mereka. Ayah aku juga seorang bekas guru sains, dan beliau mempunyai kaedah tersendiri mengajar anak2 muridnya. Alhamdulillah, minat beliau juga dikongsi bersama anak perempuan sulungnya ini.

Untuk filem yang begitu 'indah dan cantik' ni, aku bagi 8/10.
Labels: Films