Gemukkan Saya !
Aku suka fast food, terutama sekali McDonalds. I think you can gauge how much I enjoyed them by looking at my McMerchandise collection. Dua kotak besar! Dan aku simpan kesemua sekali untuk Ikmal (yang telah aku kumpul sejak perkenalan pertamaku dengan McD, i.e. during my diploma days in Shah Alam - McD sampai kat Muar, hometown aku agak lewat). Walaupun Morgan Spurlock telah mengeluarkan filem yang dikatakan sebagai 'turning point' dalam cara pemakanan berbahaya di US of A, aku tetap mengunjungi McD, KFC atau Pizza Hut, antara fast food chain kegemaran aku.

DVD Super Size Me merupakan salah satu kegemaran aku dan Ikmal. Terutama sekali special features-nya iaitu:-

The Smoking Fry
Di sini Morgan membuat satu eksperimen untuk melihat perbezaan kadar pereputan makanan2 McGoodness dengan makanan dari restoran biasa. Pelik, tetapi benar. Selepas dua bulan, kentang goreng McD kegemaran aku masih belum mereput, malah kelihatan seperti baru dibeli semalam. To quote Morgan –'It's like some kind of fluke of nature !'. Kelakar, tapi itulah yang aku bedal (hampir) tiap-tiap minggu…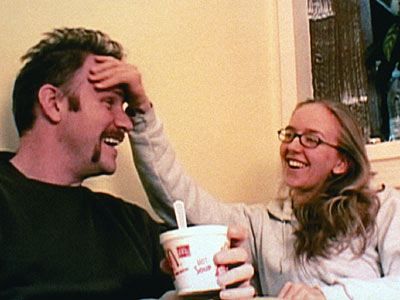 Morgan dan aweknya yang understanding.

Extra Interviews
Temuramah Morgan ngan pengusaha restoran fish & chips iaitu Chip Shop NYC. Air liur aku meleleh tengok extra menu-nya iatu coklat goreng ! Lebih menyelerakan daripada ais krim goreng yang pernah aku makan di tepi Pantai Batu Buruk, Terengganu dua tahun lepas. Antara specialties-nya, Twiggies bar, Reese Peanut Butter Cups, Mars Bar, Snickers, yum…Menggemukkan, tapi sedap! Bak kata Chris, pemilik restoran tersebut, 'I think that if you're gonna order fried chocolate, you wouldn't worry too much about the calories'.

Sesapa nak try, here's the recipe yang aku dapat on the net:-

Ingredients:
Mars Bar/ Snickers/ Peanut Butter Cups
1 cup plain flour
1/2 cup corn flour
A pinch of bicarbonate of soda
Milk
Oil for deep frying

Directions:
Chill the chocolate bar by keeping it in the fridge, but don't freeze it.
Mix the flours and bicarbonate of soda (baking soda) together.
Add milk until you get a batter with the consistency of thin cream.
Heat the oil until a small piece of bread will brown in a few seconds, but don't allow to smoke.
Remove wrapper from chilled chocolate bar. Coat completely in batter. Carefully lower into hot oil and fry until golden brown. Serve, with ice cream or french fries, if you're so inclined.
(Of course, if you want to be sophisticated, you can cut the bar into bite-sized pieces before coating in batter.)

Selamat mencuba.

Official website :
http://www.supersizeme.com/home.aspx?page=defaultpage
Labels: Films