Bandar Penuh Dosa
Welcome to Sin City. This town beckons to the tough, the corrupt, the broken hearted. Some call it dark. Hard-boiled. Then there are those who call it home. Crooked cops. Sexy dames. Desperate vigilantes. Some are seeking revenge. Others lust after redemption. And then there are those hoping for a little of both. A universe of unlikely and reluctant heroes still trying to do the right thing in a city that refuses to care.

3 perkara yang terlintas dalam kepala aku selepas menonton filem ini - Kepala, Tetek, Jamban

Kalau tak percaya, tengoklah sendiri…

Setelah menunggu berbulan-bulan, akhirnya aku berjaya mendapatkan so-called DVD Sin City. Walaupun gambar wayang, tapi aku rasa berpuas hati, memandangkan kebarangkalian filem ini akan ditayangkan di Malaysia adalah semustahil mendapat tempat duduk dalam STAR LRT di waktu puncak.

Menonton filem arahan bersama Frank Miller, Rob Rod dan QT ('Special Guest Director') ini bolehlah diibaratkan seperti memasuki ke dalam komik itu sendiri. Bayangkan video klip 'Take On Me' dendangan A-ha, only more brutal dan violent! Paying homage to the era of film noir, Miller and Rodriguez plucked the stories of Sin City right off the comic book pages, jadi, menonton filem ni rasanya seperti membaca komik2 itu sendiri, but at a grander scale.

In a nutshell, filem ni terdiri daripada 3 cerita yang saling berkait iaitu:-

The Hard Goodbye
Cerita pertama mengenai Marv, seorang pejuang jalanan yang tough gile. Pada satu malam, bila Marv mendapati wanita cantik yang ditidurinya mati dibunuh, dia berazam untuk membalas dendam sebab, well, Marv sangkakan pompuan ni syok kat dia (maklumlah, muka pecah rumah).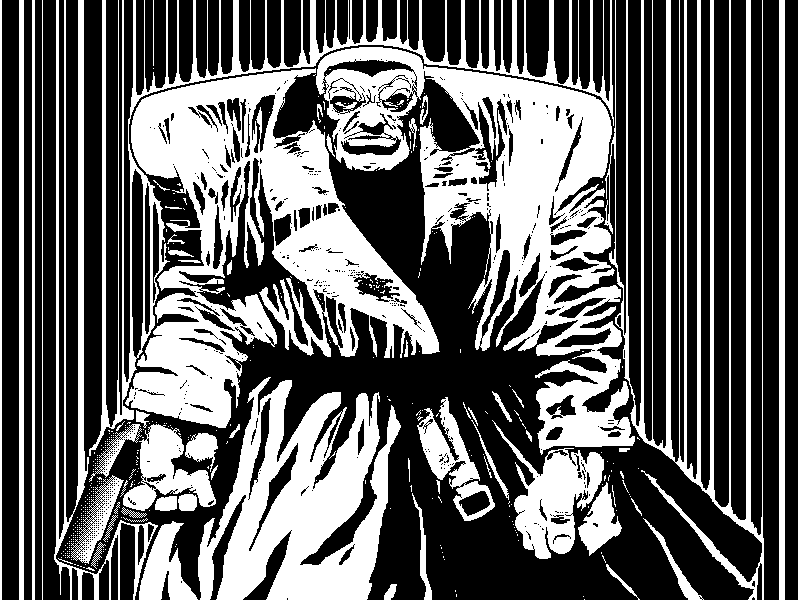 Yang hang pi bunuh aweks aku tu buat pe ?
The Big Fat Kill
Kisah Dwight (Clive Owen), seorang PI yang ingin melupakan masalah-masalahnya. Apabila Dwight dan kengkawan kupu-kupu malamnya terbunuh seorang polis hero (Jacky Boy- Benicio Del Toro) secara tak sengaja, beliau terpaksa berjuang untuk melindungi mereka.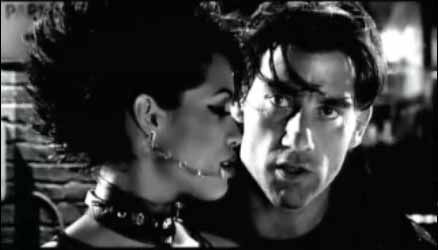 (Apasal Yang? Jerawat pecah ker ?)
That Yellow Bastard
Kisah Hartigan, polis baik terakhir di Basin City. Pada hari persaraannya, beliau bersungguh-sungguh melindungi seorang gadis, Nancy Callghan daripada dirogol dan dibunuh oleh Roark Jr (anak kepada Senator Roark-orang yang paling berkuasa di Basin City). 8 tahun telah berlalu, Nancy telah dewasa, Jr dah ter'mutat' dan Hartigan…semakin tua.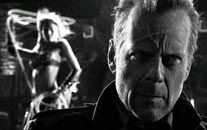 (Rasakan kau Demi! Ko ingat ko sorang jek boleh dapat pucuk muda..?)
Best !!!!
Cuma sesetengah benda je yang diberi kaler dalam filem ni, dan aku betul-betul kagum dengannya. E.g Mata biru Becky si pelacur remaja yang asyik nak bergayut dengan maknya (lakonan Alexis Bledel a.k.a Rory Gilmore), babak asmara Marv (Mickey Rourke) dan Goldie (Jaime King), darah kaler putih dan siapa lagi kalau bukan si Yellow Bastard a.k.a Roark Junior (Nick Stahl).

Spine chilling scene : "He made me watch !!!!!!!!!!!!!!!!!!!!!!!!!!" - dari Lucille (Carla Gugino), pegawai parol Marv yang diculik oleh Kevin (Elijah Wood), pembunuh kanibal yang bloody brutal, sambil menunjukkan tangannya yang dah kudung. Wow, Kevin boleh jadi Villain of the Year, only second to Roark Jr. Aku rasa scene ni lagi seram berbanding scene Hartigan (Bruce Willis) mencabut 'anu' kuning si Jr.

Kureng skit : Jessica Alba sebagai Nancy. Nancy, seorang exotic dancer, patut belajar lebih lagi. Aku rasa ada baiknya dia belajar goyang gerudi ngan Inul. Pasti getir, dong !

Apa pun, aku bagi filem ni 9/10.

Labels: Films