Patient Katil 17, Wad KK6
20/4/2005
Ikmal was admitted to HKL because of high fever. His eyes are a bit swollen, so we all suspected the worse - dengue. We went to HKL that night, together with Izma (Mama Dik Yah, my SIL, who is also a houseman in HKL), and admit that little fella to the Pediatric Ward. We stayed at Wad KK6, and as there were no enuff beds, us dua beranak shared one bed, while Sayang slept on the chair. Sayang went home at 4.00 a.m to take a REAL rest, and came back the next morning with our necessities.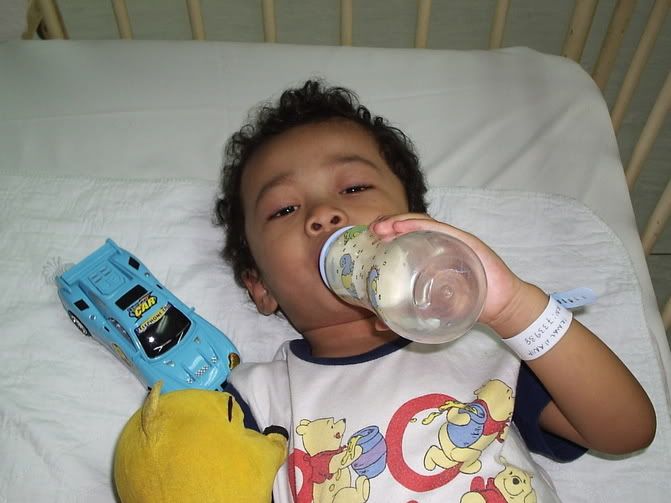 Me got milk, me no problem !
Unlike the usual visits to the GP, Ikmal freaked out when the doctor on-call (one Dr Helmy) took his temperature and BP at 4.15 a.m. After that, every time the nurses came for the regular rounds, I have to struggle to keep him down (and quiet). Leceh betul.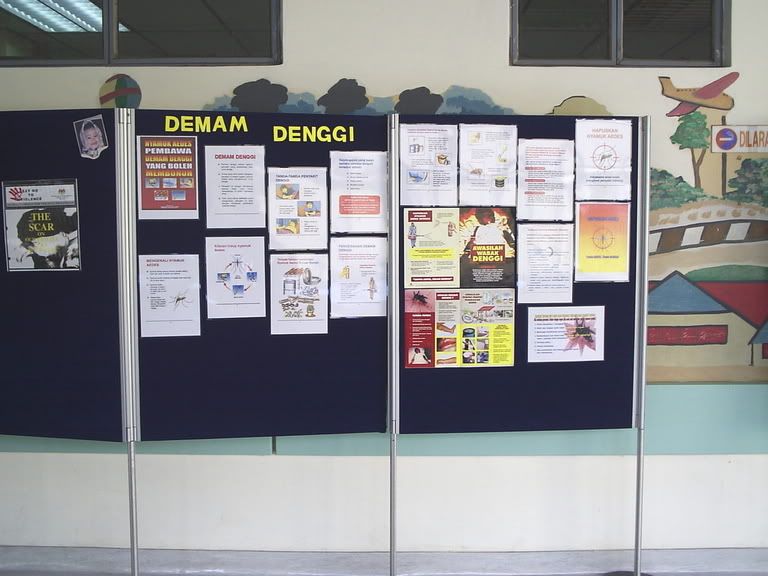 No Spongebob spotted here at the Pediatric Ward Playground
After two blood tests, Ikmal is cleared of the suspected dengue. The doctors diagnosed him for Viral Pharyingitis (for laymen like us, pls visit
http://healthgate.partners.org/browsing/browseContent.asp?fileName=11467.xml&title=Viral%20Pharyngitis
) . Well, that explains his poor appetite.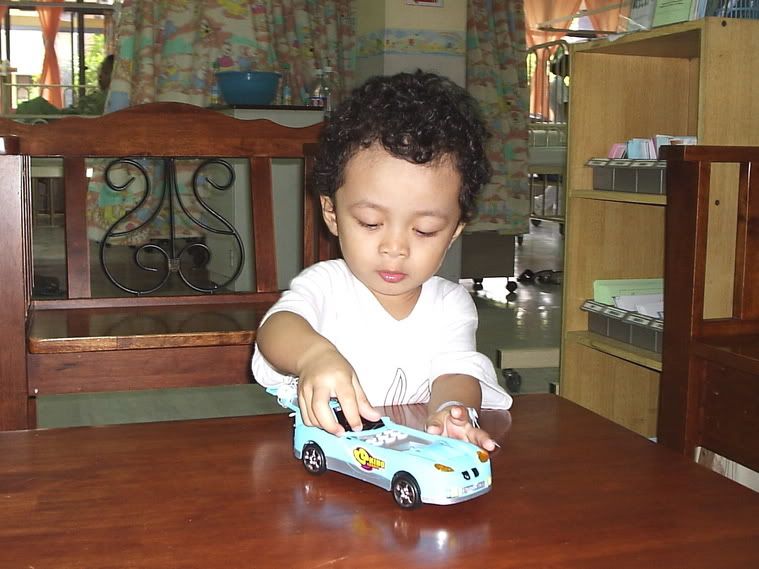 Ikmal playing at the reception table. That car was a bribe to make sure he behaves during doctors'/nurses' rounds.
After 3 days, his health is getting better, except for some red rashes all over his body. Aku bimbang giler, takut si kecik tu kena measles, but then the doctors reassured us that there is no reason to be alarmed. Alhamdulillah, sekarang dah beransur ok. Alhamdulillah.
Labels: Ikmal