The Passion of the (Shah Rukh) Khan
Even though I hate to admit it, I am a sucker for Hindi films. Maksud aku, ialah filem-filem Shah Rukh Khan zaman 90-an. Aku tak tau what's happening dengan filem2 recent Bollywood. So full of sex, scandal and eye-candies with acting skills that can make even a cardboard goes green with envy. Rasa dah takde passion nak tonton, walaupun heronya hensem giler…

Here is my three all-time favourite Hindi movie with SRK (in no particular order):-

Dilwale Dulhania Le Jayenge (1995)
Kali pertama aku menonton filem ni tanpa subtitle (apa la bodo punya VCD), tapi aku nangis jugak.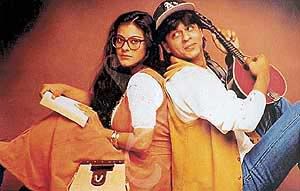 In a nutshell : Mengisahkan Simran (Kajol) yang tinggal di London bersama keluarganya, terpaksa pulang ke India untuk mengahwini jejaka bangang pilihan bapanya atas man-to-man promise. Dia menerima jodoh tersebut, sehinggalah dia terjumpa Raj (SRK) semasa bercuti di Europe dan jatuh cinta. (Kira cinta terlarang la ni..)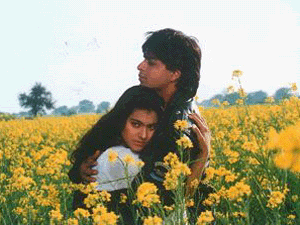 Aku suka babak : Usaha Raj mengambil hati keluarga Simran secara diam-diam.
Babak Kleenex : Masa mak Simran bagi barang-barang kemas kepada pasangan kekasih tu, suruh mereka kawin lari (sebab there is no way that the father is going to agree on this marriage), dan jawapan Raj memang membuat air mata aku laju jek…
Lagu-lagu best : Mere Khwabon Mein (Kajol pakai tuala…), Hogaya Hai Tujhko & Mehndi Laga Ke Rakhna. Classic!

Kuch Kuch Hota Hai (1998)
Dua kali tonton di panggung. Sekali ngan boyfriends dan sekali lagi ngan girlfriends masa kat UiTM dulu.


In a nutshell : Kisah Rahul (SRK) dan anaknya Anjali. Maknye si Anjali, Tina (Rani Mukherjee) mati selepas melahirkannya. Sebelum mati, Tina meninggalkan 8 pucuk surat untuk dibuka pada setiap harijadi Anjali. Surat ke-8 adalah yang paling penting, di mana Tina meminta Anjali menemukan semula bapanya Rahul dengan kawan baiknya semasa kolej iaitu Anjali juga namanya (Kajol). Banyak berkisar tentang kisah cinta tiga segi Rahul-Anjali si tomboy-Tina semasa dikolej.

These 2 should get the Nobel Prize for Chemistry!
Aku suka babak : Almost all!!!
Babak Kleenex : Silalah ke sambungan ni kat imdb.com. fyi, aku yang start thread nih..
http://www.imdb.com/title/tt0172684/board/nest/14560075
Lagu-lagu best : Ladki Badi Anjani Hai, Koi Mil Gaya, almost all also lah.

Dil To Pagal Hai (1997)
Rasa cam nak menari sama jek…


In a nutshell : Rahul (lagi! SRK) sedang mencari cinta sejati. Nisha (Karisma Kapoor), merupakan kawan baik Rahul dan dalam diam-diam menyintainya, tetapi hanya dianggap kawan oleh Rahul. They both owned a group that plays musical dramas, di mana Nisha sering menjadi heroin Rahul. Satu hari, Nisha tercedera, dan tidak dapat menari selama 3 bulan. Semasa mencari pengganti sementara Nisha, Rahul bertemu Pooja (Madhuri Dixit) dan apa lagi, jatuh cinta la…Masalahnya, Pooja telah terhutang budi kepada keluarga yang membesarkannya di mana anak mereka (Akshay Kumar) juga telah jatuh cinta kepadanya, Choices, choices..

Aku suka babak : The Dance of Envy
Babak Kleenex : Tak berapa ingat la…
Lagu-lagu best : Bholi Si Surat, DTPH theme song.

Rasanya ada banyak lagi filem yang belum aku tonton. Bukannya tak nak, tapi tak sanggup. Reason being :-
Aku jenis yang mudah menangis. Satu kotak Kleenex pun mungkin tak cukup. Contohnya, K3G.
Tak kuasa nak menanguk 3 jam depan TV.

Next movies to watch :-

Kaante
Kata orang, filem ni remake filem favorit aku- Reservoir Dogs. Nak tau betul ke tidak, just watch it!

Mudhabbai M.B.B.S
Sanjay Dutt in a comic role. Looking forward to that.

Girlfriends
For THAT controversial scenes.

Seen any good Bollywood movies lately?


Labels: Films