For Love Or Money?
One thing I hate about this 'tengah bulan' scenario is my 'pokai-ness'. It really sucks when there are so many things that tempt you to buy, buy, buy, like this magazine I noticed when we were bringing Ikmal to the clinic in Taman Sri Ampang (the little angel is down with fever again, the 2nd time this month!)
I didn't notice the name of the magazine, First agaknya, but it's definitely a made in Malaysia MOVIE magazine. The cover, which caught my eyes featured my once flavour of the month - Clive Owen in his Dwight mode. Which movie is it? Yes... it's one of the most anticipated movie of 2005 - Frank Miller's Sin City !!!! I (literally) screamed my heart out as I flipped thru the contents. Wow, there it is, in black and white (just like the movie itself, gorgeous photos of the casts in their Sin City mode- Bruce Willis, Clive Owen, Mickey Rourke, Elijah Wood (post- Frodo Baggins) and the babelicious babes of the City - Devon Aoki, Rosario Dawson and Jessica Alba. Gosh, I nearly drooled on the mag, if not for the stare from the guy at the cash register...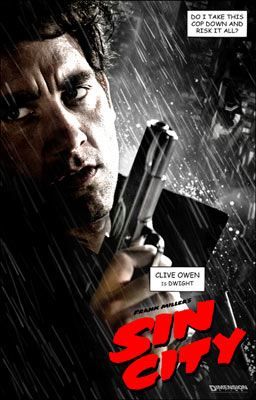 Tak sabar nak tengok !!!!
But then, I didn't buy it. At RM9.50, it is considered as a luxury item at times like this. So, bubbye mag. Maybe I will look for you when the time comes...
(15 hours later...)
Lunch hour today...
As I browsed thru the magazine at the little shop infront of Giant Sg Wang, I noticed this bumper issue of Empire with Colin Farrell on the cover (in his almost gay Alexander mode), going for more than half the normal price. OMG!!!!! I have been eyeing this mag since the last two months, and now it's in the bargain bin. I really, really wanted this issue, as it comes free with a 108-page booklet on movie trivias.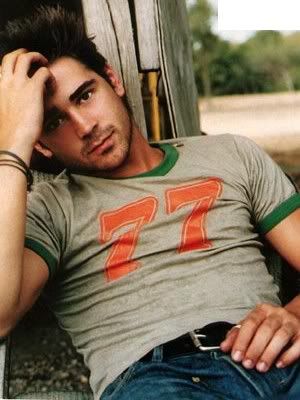 Alamak, should I buy it before somebody else grab it? What about my pokai-ness?
Without any hesitation, I grabbed the mag, paid RM10 to the Indian guy over the counter, and head back to my office. Huahahhahaahah!!!!!! No money, no problem? I guess I'll think about THAT later. For now, I will savour the fruit of my labour, ;-)
Mamat, lu bikin gue muflis daa...
Labels: Films, Printed Materials